Czech Piano Maker Petrof Focuses on China Sales to Survive
Petrof has survived two world wars and a Communist takeover
by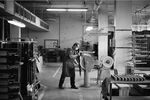 Zuzana Ceralová-Petrofová was hardly thrilled when her father asked her to join the family business in 1999. The great-great-granddaughter of the founder of Czech piano maker Petrof was working at a pharmaceutical company and dreaming of opening her own pharmacy. Her father, Jan Petrof, had other ideas when he regained control of the company after decades of Communist-era mismanagement. "He really didn't give me a choice," Ceralová-Petrofová says with a shrug. "We had to save our heritage."
Once an esteemed producer of pianos sold on five continents, Petrof was nationalized in 1948 and merged into a behemoth called Czechoslovak Musical Instruments, which manufactured everything from guitars and violins to trombones. By the time the family regained control in 1998, the company had become bloated and unprofitable, churning out mediocre instruments destined mainly for the former Soviet Union: "The proverbial cheap product from the East," Ceralová-Petrofová says.

Under Czech privatization rules, Jan Petrof couldn't take back just his family's business—he had to buy the entire Soviet-era enterprise. That saddled the family with 300 million korunas in loans—then about $10 million—at 18 percent annual interest. The family's first challenge was to change the "socialist mindset" of employees and managers, says Ceralová-Petrofová, the company's president. She evaluated Petrof's markets. Over the years Ceralová-Petrofová has steadily sold off everything not related to piano making, leading to an 80 percent reduction of the 1,100-employee workforce. She added stringent controls at every stage of production to ensure quality and has renewed emphasis on research and development.
Europe's biggest piano producer, Petrof makes about 2,000 pianos a year, ranging from €7,000 ($9,300) uprights to €100,000 grands. Asia now accounts for 40 percent of the company's sales. Ceralová-Petrofová decided that instead of competing with inexpensive pianos made in China, she would produce high-end instruments and market them to discriminating customers, especially wealthy Chinese hungry for products with a pedigree. "In China we are considered a luxury brand," she says. "They are very keen on European tradition."
After almost going bankrupt in 2004, Ceralová-Petrofová says the company is growing at about 5 percent a year and logged a pretax profit of 8 million korunas ($411,000) in 2012. Quality has improved considerably, according to Stuart Kernaghan, a sales manager at Jaques Samuel Pianos in London, which sold a Petrof to Paul McCartney. Kernaghan calls the pianos "very well-made, with a warm tone." Other Petrof owners include composer Ennio Morricone and concert pianist David Helfgott, subject of the 1996 film Shine. The sound of his Petrof grand is "wonderfully rich and enables me to add so much color to the music," Helfgott said in an e-mail.
Petrof was founded in 1864 by Antonín Petrof in Hradec Králové, about 70 miles east of Prague, where it's still headquartered. A carpenter's son, young Antonín dreamed of something grander than taking over his father's shop, so he apprenticed himself to piano makers in Vienna. Despite job offers there, he returned home to open his own business. Half a century later, the company was supplying living rooms, concert halls, and royal families across Europe: Its 30,000th piano was delivered to Archduke Franz Ferdinand, heir to the Austro-Hungarian Empire, two weeks before his assassination.
The company survived the war by making railroad ties. By the 1930s, Petrof was selling pianos from New York to Shanghai. During World War II, German occupation troops ordered the company to build ammunition boxes. After Petrof was nationalized, family members were barred from the premises.
Today, 73-year-old Jan Petrof serves as a global brand ambassador, attending about 100 concerts a year worldwide. To celebrate its 150th anniversary next year, the company is planning to unveil a €125,000 grand piano named after its founder. "We've had our highs and lows," Ceralová-Petrofová says, "but we've always managed somehow."
Before it's here, it's on the Bloomberg Terminal.
LEARN MORE