CEOs Give Investors the 'Laser' Treatment
Executives overuse a pet phrase meant to impress investors
by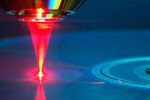 When Liam McGee, chief executive officer of Hartford Financial Services Group, wants to emphasize his commitment to creating shareholder value, he pulls out the precision weaponry. "Our team is laser-focused on execution," he said in a March 2012 conference call with investors and analysts, laying out plans to divest units and halt some annuity sales. It was one of at least six events in the past two years at which McGee hauled out the lasers.
He's not alone. At companies ranging from children's book publishers to organic-food purveyors, CEOs are increasingly training powerful beams of light on their targets. The phrase "laser-focused" appeared in more than 250 transcripts of earnings calls and investor events this year, according to data compiled by Bloomberg, on pace to eclipse the 287 in all of 2012. "It's business jargon," says L.J. Rittenhouse, CEO of Rittenhouse Rankings, who consults with executives on communication and strategy. "What would a more candid disclosure be? 'We are focused.' What does a laser have to do with it?"
John Foraker, CEO of organic macaroni-and-cheese maker Annie's, told investors last month that his company is "laser-focused on executing at a high level through the remainder of this fiscal year in order to achieve against our short- and long-term strategic objectives."
Richard Robinson, CEO of children's book publisher Scholastic, in July explained efforts to help school districts prepare teachers, assemble their book collections, and aid struggling students: "We are laser-focused on capitalizing on the significant opportunities, the changing buying behavior, and new needs in the classroom." He was highlighting the increased use of Scholastic's digital programs, Kyle Good, a spokeswoman for the company, wrote in an e-mail. "Everyone at Scholastic IS laser-focused on getting these programs and learning materials into the hands of more students and teachers nationwide because there is a tremendous need to help raise student achievement."
A few CEOs have powered up their beams amid pressure from hedge funds. Hartford chief McGee's comments came after John Paulson urged him last year to "do something drastic" to boost returns. Hartford spokesman Shannon Lapierre says McGee's use of the phrase coincided with efforts to focus the company's business and that he hadn't used it in a couple of quarters. In October, Bob McDonald said his company, Procter & Gamble, was "focused like a laser" on productivity and innovation, months after activist investor Bill Ackman took a $1.8 billion stake. The maker of Tide and Pampers brought back former CEO A.G. Lafley in May. Lafley told investors at a conference on Sept. 4 that P&G has a "laser focus on value creation."
David Larcker, a professor at the Stanford Graduate School of Business who has studied deception on investor conference calls, says that when executives "start using a lot of jargon, it makes you wonder about the believability." Rittenhouse, who analyzes shareholder letters for an annual report on CEO candor and reviews about 100 conference-call transcripts each year, has found that companies that use "fact-deficient, obfuscating generalities" have worse share performance than more candid companies.
One manager who has avoided the phrase is John Ambroseo, CEO of Coherent. When asked in July on a conference call about his company's move into a new market, he said, "We're very focused on a select set of customers. We're not trying to sell to everyone, everywhere." Coherent's product: lasers.
Before it's here, it's on the Bloomberg Terminal.
LEARN MORE