The 'Mechanical Turk' of Sports Prepares for a New Season
by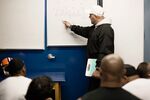 The professionalization of youth sports has turned coaching into an increasingly lucrative profession, with some parents paying $100 an hour or more to give their kids personalized lessons. Add sports camps and adult training to the mix, and sports coaching will be a $6.3 billion business this year, up from $3.8 billion in 2003, according to IBISWorld. That growth means there's a market for tech companies that help coaches do their jobs better.
Vasu Kulkarni graduated from the University of Pennsylvania in 2008 and set out to launch a sports business. His idea: Equip high school coaches with the same types of video tools that college and pro teams use. For $1,000, Kulkarni's startup Krossover would break down game tape for an entire basketball season, making it easy for a coach to sort clips by, say, all the times his team tried a three-point shot.
Krossover's secret sauce is organizing cheap labor. Coaches upload tape to the company's site. Contract workers bid to work on games, earning $14 an hour to $25 an hour, depending on supply, demand, and turnaround times. Krossover's technology speeds the process of coding games, and the average job takes about 90 minutes. "A lot of people think we're doing some sort of crazy image recognition," says Kulkarni. "We're more like the Mechanical Turk of sports."
Krossover signed up 50 basketball teams in 2010, the company's rookie season. Since then, the company added football and lacrosse to its repertoire. This year, Kulkarni expects to sell video packages to 2,500 teams; prices for a season's worth of services range from $800 to $2,500. That should translate to from $3 million to $4 million in revenue over the course of the new school year, Kulkarni says. That's less than Hudl, a competitor that projected revenue of $17 million last year.
Selling coaches video tools may be just a starting point. Krossover is also working on compiling highlight reels for high schoolers who want to show off their talents to college recruiters, or to those who simply want tangible memories of their glory days. "For 99 percent of kids, it never gets any better than high school ball," Kulkarni says. "If someone would offer me footage of my playing days, I'd pay anything. Sadly, it's all gone."
Before it's here, it's on the Bloomberg Terminal.
LEARN MORE