The Flavored-Booze Binge Hasn't Dried Up Yet
By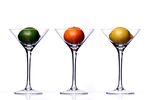 Flavored spirits have expanded well beyond honey-flavored whiskey and vanilla vodka. Now consumers can get drunk on everything from smoked salmon vodka from Alaska Distillery to chocolate-flavored whiskey from Kings County Distillery.
Purists might turn their nose up at the trend, but major spirit makers such as Diageo, Beam, and Brown-Forman have credited new flavored varieties for recent sales increases in recent years. Younger drinkers, of course, tend to be experimental—some might even say undiscriminating—in what they consume, and liquor imbued with flavors is nothing if not novel. Brown-Forman even found that its Jack Daniel's Tennessee Honey "recruited new consumers to the brand including African-Americans, Latinos and females."
Today's Wall Street Journal goes on a visit to Diageo's flavor lab in England to watch the "liquid developers" on the job. The company "took three years, 839 formulations and analysis of 300 types of chocolate to create Baileys Chocolat Luxe, a new version of the Irish cream liqueur," the newspaper notes. Other new concoctions from the lab now on the market include "a champagne-inspired apple drink marketed at women in Kenya and Nigeria."
The dramatic growth of flavored spirits has swept the industry. "Just five years ago," said Beam Chief Executive Matthew Shattock during a May earnings call, "just one in 10 cases of vodka was a flavored vodka. It's now one in six and we're seeing that segment grow at a double-digit rate." In fact, flavored vodkas more than doubled their share of the U.S. market, to 26 percent of volume sales, from 2007 to 2012, according to researcher Euromonitor International.
Beverage executives like Shattock tend to see even more room for growth, but Euromonitor senior analyst Spiros Malandrakis isn't convinced that the flavored vodkas that launched this trend will continue to boost sales much longer. Flavored vodkas have already declined as a share of new vodka launches this year, reported BeverageDaily.com, although the trend is newer in brown spirits such as whiskey.
One indicator: Last year, Malandrakis notes, growing U.S. sales of flavored vodkas coincided with a decline in nonflavored varieties—in other words, he says, cannibalization has already begun. As he wrote in a Euromonitor blog in August: "The tsunami of ludicrous flavors unleashed over the past couple of years has indeed provided a solid short-term boost in markets embracing them—most notably the U.S. Unfortunately, the key phrase here is short term … the category's dessert-flavored sugar coating will soon begin to take its toll."
Before it's here, it's on the Bloomberg Terminal.
LEARN MORE