business
Salaries for College Business Grads Surge
Francesca Di Meglio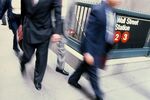 College business majors have a reason to smile. With the improving economy increasing demand for college graduates, new research shows that average salaries for business majors increased 7.9 percent this year, the biggest increase among all academic disciplines.
Salaries for business majors jumped to $55,635, according to a report by the National Association of Colleges and Employers (NACE).
Among business majors, finance graduates were the biggest winners, with a 10 percent increase that pushed their average starting salary from $52,800 to $58,100. Salaries for business administration majors were up 6.7 percent, to $56,000. And accounting majors didn't do badly either, receiving a 6.2 percent increase, to $53,500.
Andrea Koncz, employment information manager of NACE in Bethlehem, Pa., said strong demand for business majors played a big role in the pay hikes, as did the mix of jobs they were hired for. Some positions fetched far higher salaries than they did last year, such as financial manager jobs at finance and insurance companies—jobs that earned business majors $77,100 this year, an increase of nearly 11 percent. "Those majors are typically top of the list for demand among employers," says Koncz. "So they're willing to pay more for employees."
Marketing majors are the only ones in business who will be disappointed. Their starting salaries fell 3 percent, from $53,400 to $51,900. Koncz says more employers are hiring marketing majors for lower-paid positions, such as market research analysts and marketing specialists, than the highest-paid positions, such as financial managers, where the average salary is $66,200.
The pay hike for business majors far exceeded the overall average starting salary for graduates with a bachelor's degree, which rose 2.4 percent, from $44,259 to $45,327. Beyond business, every major but one had a salary increase in 2013. The changes ranged from -2.5 percent for computer science to +3.7 percent for communications.
NACE's report is based on a compilation of data derived from the Bureau of Labor Statistics, the Census Bureau, and a master data set developed by the firm Job Search Intelligence. The government data were retrieved from about 400,000 employers.
Join the discussion on the Bloomberg Businessweek Business School Forum, visit us on Facebook, and follow @BWbschools on Twitter.
Before it's here, it's on the Bloomberg Terminal.
LEARN MORE