Once Extreme, Now Mainstream: Jackson Hole Is Named North America's No. 1 Ski Resort
By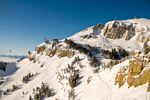 If, toward the close of business on Thursday, you find yourself with a little time on your hands and within striking distance of Jackson, Wyo., you ought to take yourself over to the town square. Starting at around 5 p.m., Jackson Hole Mountain Resort will be hosting a civic party to celebrate its being ranked the No. 1 ski resort in North America by readers of SKI magazine. The resort brass will be, among other things, eagerly thanking the locals that lend the resort and pioneer town its enduring character, and keep it—if just—from becoming another gated American paradise.
Now, I grant you, making it to the top of a magazine's survey might seem like an any-excuse-will-do cause for having a beer and dancing in the streets. And it's true that recognition from lifestyle publications, much less (ahem) "verticals," can be arbitrary, or suspiciously under the influence of prominent advertisers. But the SKI resort survey is not like that: It's been going for 26 years. It's draws upon subscribers—145,000 of them last year. And for the official 2014 ranking, 10,000 responded with feedback across 20 categories (e.g., snow, lifts, service, on-mountain food, lodging, family programs) for a total of 40,000 resort evaluations. A roughly 5 percent response rate is robust for an online survey; these folks must value their opinion as much as their turns.
"Jackson Hole has always been on the bucket list for any committed skier," says Greg Ditrinco, the editor of SKI. "It's right up there with Chamonix and AK [Alaska]. It's the birthplace of extreme skiing. They've always had some of the best terrain. … But that's God-given. What this ranking reflects is that they've taken care of all the management-driven elements, too." Ditrinco says Jackson Hole had only once before cracked the top 10 (No. 6 in 2012-13), and that the previous winners, such as Vail, Colo., and Deer Valley, Utah, are all-inclusive destinations—places where families tend to spend a week.
It's tricky to draw a direct correlation between the top ranking and commercial gain—to put a number on what No. 1 is worth. Jackson Hole's new chief marketing officer, Adam Sutner, spent four years at Vail Mountain Resort, which he says experienced a boost after it won the SKI readers' poll. "Not immediately, but over time," Sutner says. "It served to lift and sustain the business."
"Do you revise your revenue figures up as soon as you hear [that you won]?" says Bob Wheaton, president of Deer Valley. "No, but it absolutely translates into first-time visitors. We talk to our guests a lot from their reservation on through, and they'd tell us that they wouldn't have thought of us but for the SKI survey, and now that they've tried us, they're coming back." He adds: "It's huge for staff, because in so many of the categories, they're the ones that will make the difference in a ranking."
There are any number of specific tweaks that might account for Jackson Hole leapfrogging its rivals. An obvious one is volume. On the strength of nonstop flights from 12 U.S. cities, the resort had its most visitors ever last winter (502,000, according to brand director Anna Olson). At the same time, the owners—the ski mountain is still independently owned and operated by the Kemmerer family—have invested $135 million in capital improvements over the last 12 years. Reached in his Jackson office, resort President Jerry Blann allowed that the mountain "can humble you," which is why "we've really focused on maximizing our intermediate terrain, grooming, and making the whole trip more convenient."
What the No. 1 ranking may signal most, however, runs a little deeper than convenience, or the clever method the resort has devised for grooming steep slopes with a winching system, impressive as that is. Jackson has managed "to soften its edges," according to Ditrinco, without losing its edge altogether. "They've made it for more than just the hard-core skier," he says. "And now it's up to them to prove if that is a good evolution or a bad evolution. I obviously think it's a good evolution, because I'd like the sport to grow."
Continuing to navigate this evolution without a backlash won't be easy, Ditrinco says. "A great part of the appeal of Jackson Hole is its authenticity. It's not a homogenized resort," he says. With the top ranking will come higher expectations. "New visitors will come looking for a No. 1 experience, whatever that means to them, so operating the 'new' Jackson Hole without losing the charm of the 'old' Jackson Hole is the challenge. It's similar to any business that has expanded beyond its core constituents."
Before it's here, it's on the Bloomberg Terminal.
LEARN MORE