Fox's Sleepy Hollow Is Heads Above the Competition
By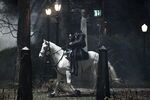 Apparently people love a headless antagonist. On Monday, Fox's part-time-travel, part-conspiracy-theory-thriller Sleepy Hollow blew its competition away by pulling in 10.1 million viewers, making it Fox's highest-rated drama premiere in more than six years.
Even with Sleepy Hollow's success, a few long-running shows still managed to pull in higher ratings. The Under the Dome series finale brought in 12 million viewers and a whopping 16.2 million people watched Dancing with the Stars, which also means that 16.2 million people voluntarily watched Snooki do the cha-cha. But from an advertising perspective, Fox may have beaten even these shows by pulling in a 3.5 rating among viewers 18 to 49, otherwise known as the people who advertisers care the most about because they're more likely to buy things. (Dancing and Dome pulled in 3.2 and 2.8, respectively, among that age group.)
The high numbers are good news for Fox; the network's big drama last year, Mob Doctor, had an audience half the size of Sleepy Hollow's and was canceled after just two months. Sleepy Hollow has also benefited from a slew of positive reviews; the A.V. Club called it "delectably silly," and LA Times TV critic  Mary McNamara said that after watching the "zany spook-fest," she was hooked. But the show does have a bit of a Halloween feel to it—it is a modern take on the age-old story of the Headless Horseman, after all—so the question remains whether viewers will tune in after the holiday is over. Given the past success of supernatural hits such as Buffy the Vampire Slayer and Grimm, the answer is probably yes.