pursuits
Butterball's Turkey Helpline Wants a Few Good Men
By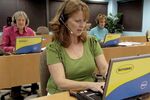 It's taken 32 years, but men are finally poised to break through the slow-roasted turkey ceiling. Butterball's Turkey Talk-Line, a toll-free call center open from early November through Christmas Eve every year, currently employs 60 women to answer frantic phone calls from would-be chefs seeking advice on how to prepare their bird for the holidays. And for the first time since launching in 1981, the Turkey Talk-Line is looking to hire men.
"Are you the man we've been looking for?" Butterball asks coyly on its Facebook (FB) page, where it invites guys to apply to work in its Chicago-based call center or to become the Turkey Talk-Line's official spokesman. Applicants are asked to write three essays and film a video of themselves talking about how much they like turkey. The quest for men began on Monday, and the company declined to specify on how many applications it's received in the first 48 hours.
Why the lack of men in the first place? Simple: For a long time they didn't do the holiday cooking. When Butterball's toll-free line opened three decades ago, most calls came from mothers and young women preparing a turkey for the very first time. According to Butterball, just 9 percent of callers back then were men.
That's no longer true. When I spoke with Butterball Talk-Line expert Marty Van Ness for an article on the hotline last year, she noted that more men were calling than ever before. Butterball last year counted 1 in 4 calls coming from puzzled male chefs for the first time. The company also conducted a survey in May that found nearly half of men claim they help prepare or cook Thanksgiving dinner. Since Butterball's customer base has diversified, the company felt compelled to update its call center, too.
Butterball never excluded men from answering the turkey phones—it's just that none have ever expressed an interest in the posts. Traditionally, turkey experts have been referred to the company by employees, according to Mary Clingman, director of the Talk-Line. "A man has never applied," she says.
Applications will be accepted through Oct. 20. Of course, before any man can staff the Turkey Talk-Line, he will first need to pass the so-called Butterball University training program and prove he knows how to defrost, bake, roast, broil, and deep-fry a turkey. Meanwhile, maybe it's finally women's turn to figure out the most comfortable position for falling asleep on the sofa.
Before it's here, it's on the Bloomberg Terminal.
LEARN MORE