Blankfein and SAC Capital—Still Trading
By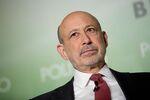 This morning Goldman Sachs Chief Executive Lloyd Blankfein once again highlighted the close relationship between his firm and embattled hedge fund SAC Capital. "They've been indicted, they haven't been convicted," Blankfein said during an interview on CNBC. "We are a big liquidity provider, we're a major prime broker. That would be a quite an existential decision for them if all the liquidity providers withdrew liquidity on the basis of an indictment which they're contesting."
"The government wouldn't want us to withdraw that, because if everybody withdrew liquidity, you would vaporize a firm," Blankfein continued. "The government did come back and encourage firms like ours to continue to deal with SAC." He cited Enron-tainted accounting firm Arthur Andersen, which shut down right after it was indicted, leading to thousands of job losses. The current situation was preferable, Blankfein said, because it allowed prosecutors to bring charges against SAC without triggering a "nuclear" option and instantly forcing it to close.
SAC was indicted on July 25 and charged with engaging in systematic, companywide insider trading. Shortly after the charges were brought, Goldman's chief operating officer, Gary Cohn, pledged his firm's continued commitment to SAC in another interview: "They're an important client to us, they have been an important client to us," he said on CNBC. "We continue to trade with them, and they're a great counterparty."
SAC founder Steven Cohen has denied the charges and says he and the firm have acted properly. The case against his company is likely to drag on for some time. Meanwhile, one former SAC portfolio manager, Mathew Martoma, and one current SAC portfolio manager, Michael Steinberg, are set to go on trial in November. Both have denied the charges against them.
Before it's here, it's on the Bloomberg Terminal.
LEARN MORE