Ukrainians Drawn to Hryvnia as Central Bank Gets Lifeline
Daryna Krasnolutska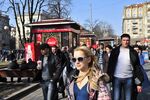 For Dmytro Arsentiev, the 20 percent interest he gets on his hryvnia savings at Ukraine's No. 2 bank, offers enough protection from currency swings.
"Running around hectically like a rabbit to change money isn't profitable now," the 63-year-old pensioner, a retired computer consultant, said by phone from Kiev, the capital. "You lose on the conversion costs."
Ukrainians, who endured a 40 percent devaluation five years ago, are ignoring warnings from banks including Goldman Sachs Group Inc. that another is on the way as lenders offer high deposit rates and the hryvnia holds firm to the dollar. After selling the currency en masse in 2012 in anticipation of a drop after elections, they've been net buyers for four consecutive months, the longest streak since 2005.
That newfound faith has thrown a lifeline to the central bank, whose foreign reserves are languishing at a seven-year low as the European Bank for Reconstruction and Development predicts another recession. With investors shunning hryvnia assets, Ukrainian citizens may now hold the key to currency stability in the run-up to President Viktor Yanukovych's bid for re-election in 2015.
'Weighty Factor'
"The population's demand for foreign cash is a very weighty factor," Olena Bilan, chief economist at Dragon Capital in Kiev, said by phone. A return of devaluation expectations "would reduce the central bank's ability to maintain the de facto dollar peg."
The hryvnia is outperforming emerging-market peers from India to Brazil. The currency, which has dropped 0.8 percent this month to 8.1985 per dollar, is 1.8 percent weaker against the dollar in 2013, compared with a 13.2 percent drop for the rupee and a 8.9 percent fall for the real, data compiled by Bloomberg show.
Derivatives investors have taken the opposite stance, with Ukraine's credit-default swaps, which insure against non-payment of debt, the world's second-worst performers over the last six months. They stood at 880 basis points today.
Foreign ownership of Ukrainian domestic debt fell to 1.8 percent as of today from 8.3 percent at the start of 2010, central bank data show.
Reserves Dive
As policy makers sold foreign currency to support the hryvnia, central bank reserves have plunged to less than three months of imports, a threshold economists deem important for financial stability. The stockpile stood at $21.65 billion dollars at end-August, down from $30 billion a year earlier.
Ukrainians have begun to ease the burden.
Retail deposits denominated in hryvnia surged 27.1 percent in the first eight months, while foreign-currency savings rose 1.6 percent, according to the central bank. As well as the hryvnia's outperformance, depositors have been lured by an average 12-month interest rate of 17.59 percent, compared with 7.21 percent for dollars. Net hryvnia sales by citizens plunged to $136 million last month from $720 million a year earlier.
"Raising the status and the attractiveness of the hryvnia as a currency for payment and savings and cutting the economy's dollarization will remain one of the central bank's main activities," Olena Shcherbakova, the regulator's head of monetary policy, told reporters last month. "July's results show trust in the hryvnia was maintained."
Boxing Champion
Yanukovych, who was overtaken by world champion boxer Vitali Klitschko in the most recent voter poll, is struggling to sustain a recovery from a recession that ended in January. Exports such as steel are suffering because of weaker global demand, with Metinvest, the nation's largest metals producer, cutting steel output by 8 percent in the first half after net income fell 77 percent in 2012.
The EBRD forecasts a 0.5 percent contraction in gross domestic product this year. The government has failed to sign a new International Monetary Fund bailout loan because of disagreements over household energy subsidies.
While recent hryvnia stability has convinced some Ukrainians that devaluation isn't on the cards, the nation's economic woes suggest the currency may struggle this year, according to Liza Ermolenko, an analyst at Capital Economics Ltd. in London.
"The large current-account deficit, a heavy debt burden, struggling exports and dwindling foreign-currency reserves all mean the hryvnia is likely to come under renewed pressure over the coming months," she said last month by e-mail.
Weaker Forecasts
The currency may weaken by 30 percent as the government agrees to a bailout and succumbs to the IMF's demands, which also include allowing more exchange-rate flexibility, according to Goldman Sachs. It will fall to 9.0 in the first quarter of 2014, according to the median estimate in a Bloomberg survey of nine economists.
Even with the memory of 2008's 45 percent devaluation fresh in his mind, Arsentiev has no intention of changing his strategy, relying on his hryvnia-savings account at AT Oschadbank.
"Nobody can save his money from such a collapse," he said. "You can change $100, $200, $300, but if it's $3,000 or $4,000 you wouldn't be able to convert it quickly enough."
Before it's here, it's on the Bloomberg Terminal.
LEARN MORE