pursuits
Redbox Sacrifices Margins to Drive DVD Rentals
By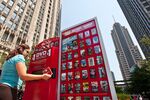 The increasingly brutal economics of the entertainment business are finally catching up to DVD rental kiosks.
Outerwall, the company behind some 43,600 Redbox vending machines, just surprised Wall Street by dialing down its earnings expectations for the year. Two major factors are at play. Most notably, the jump Redbox and other DVD companies had on streaming rivals such as Netflix and Amazon.com—a time-cushion that used to be 30 days to 45 days for access to new releases—is pretty much gone.
As a result Outerwall, formerly known as Coinstar, has had to cut prices to keep its discs moving. The company's profit margin in the first half of the year shrunk to 6.2 percent from 8.2 percent in the same period of 2012.
The Redbox we tracked down at a Duane Reade in midtown Manhattan had a lineup of popular new releases, including World War Z, on offer for $1.20 a day, or $1.50 for a Blu-Ray version. Amazon is charging $3.99 to watch Brad Pitt shoot zombies.
The price cuts are working: Outerwall rented 74 million DVDs in July, its best monthly tally in history and 13 percent more than it booked in the same month last year. That's as if two out of every three U.S. households hit a Redbox. In August, rental volume was up almost 16 percent over the prior year.
What's more, a lot of those customers were new to the trade. The number of unique credit and debit cards processed by Outerwall is up by 11 percent this year.
The company is still bullish on its long-term prospects. It plans to buy $100 million of its own stock this year and it projects revenue growth of 4 percent to 7 percent next year and in 2015.
Wedbush still has an "outperform" rating on the company. "Our confidence in the Outerwall story is largely unchanged, as we do not believe that the DVD rental business is in a state of persistent decline," analyst Michael Pachter wrote in a note this morning. "In our view, people will still rent movies as long as movies are released in a rental window, and value-conscious consumers will seek the best price possible."
Indeed, any business that can undercut its rivals' pricing by 70 percent and still make a 6 percent return is a powerful one. But Outerwall might eventually need some Redbox sequels if it's going to keep the closing credits from rolling.
Here's a new idea: ecoATM, kiosks for buying and selling used cell phones and tablets.
Before it's here, it's on the Bloomberg Terminal.
LEARN MORE