Managing the Technology of Fashion
Naomi Gross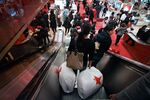 Less than a century ago, the fashion business was driven by intuition—and maybe a little magic. The most successful designers and retailers had an uncanny understanding of what people wanted before people knew it themselves. But then, they often knew their customers personally.
While art is still an important ingredient in fashion, the entire industry—everything from marketing to manufacturing—has been profoundly affected by technology. Retailers no longer rely on one-size-fits-all methods such as TV ads to reach potential shoppers. They engage consumers online, over social networks, or on customers' mobile phones half a mile from the store. Brands no longer operate separate sales channels; they adapt an omnichannel strategy that integrates data generated by brick-and-mortar stores, e-commerce sites and mobile devices to better understand what people want and how to give it to them.
Retail today is a delicate balance of art and science. Big Data—the ability to generate, collect, and analyze massive volumes of data—is changing the way brands interact with customers, the way retailers identify and capitalize on emerging trends, and the way retailers manage their supply chains.
This isn't a passing trend, like leg warmers or acid-washed jeans. It's a fundamental restructuring of the way business is done. Macys.com, for example, now analyzes tens of millions of terabytes of information every day from online activity, in-store transactions, and social media in effort to better understand customer preferences and improve its promotions. The use of big data analytics has helped Macy's boost store sales by 10 percent.
Collecting and organizing data is obviously important, but without the proper analytic tools and knowledgeable people who can swim through vast oceans of information, a data warehouse is an extravagant waste. At the Fashion Institute of Technology, we're teaming with high-tech companies such as IBM and JDA Software that have in-depth understanding of data analytics and how our students can use emerging technologies to their benefit.
It's not only students that need these capabilities. Fashion industry professionals need to update their skills to become more conversant with the technology tools needed to adapt to the ever-changing marketplace. They need to understand how to manage digital data, learn how to prioritize it, and be able to extract meaningful insights from it.
While many retailers have used sophisticated predictive algorithms for quite some time, we're just beginning to realize many of the advances that technology promised so many years ago. This creates a tremendous need for talent and a major opportunity for students. An estimated 6 million U.S. jobs will be created to support Big Data by 2015—many of which will go unfilled, according to Gartner.
By teaching students and industry professionals about data analytics, we're not only preparing them for the workforce, we're preparing them for the waves of change we expect to see in the immediate future.
Before it's here, it's on the Bloomberg Terminal.
LEARN MORE