Jeffrey Loria Does What It Takes to Remain Baseball's Least Loved Owner
By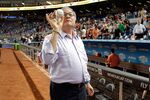 Miami Marlins owner Jeffrey Loria, as we noted at the beginning of the baseball season, is not especially well-liked in South Florida. His greatest crime, in the eyes of fans, was getting everybody's hopes up. He built a $650 million stadium (financed largely with public money), stocked it with big-name talent—and when things didn't go as planned he sent those expensive players packing. Miami was left to watch a team of no-names for most of this season.
Some of those no-names, it turns out, are good, young baseball players. Despite the team's miserly, sad-sack status, the Marlins just might have a bright future—if Loria doesn't muck it up again. The unloved owner is big-footing his front office staff, according to reports from the Miami Herald and ESPN's (DIS) Buster Olney, overruling even his stepson and team President David Samson on baseball decisions. "Multiple sources," the Herald reports, "described an organization filled with internal strife because of Loria's meddling and constant intrusions on even mundane roster decisions."
Meddling in the day-to-day is standard operating procedure for Loria. "He likes to be down in the clubhouse," former Marlins catcher Paul Lo Duca told me earlier this year. Lo Duca is an unabashed fan of Loria and his hands-on style, but he knows not everyone agrees: "When you have owners that are in the clubhouse a lot of the time, a lot of players will wonder why do you have a general manager or why do you have a manager? Why do you have a pitching coach? That's why you hire those guys. It seems to work the best when it's not like that."
The fear for Marlins fans is that the team's breakout star, starting pitcher José Fernández, is among those who feel alienated. "There is concern among some of the folks in uniform that Loria is creating a problem with José Fernández that could become similar to what the Marlins had with Hanley Ramírez," Olney wrote in his column today. Ramírez, as Marlins fans know too well, was traded to Los Angeles in July of last year—and now he's helping the Dodgers march into the playoffs.