It Takes a Football Player to Sell Men on Pampering
by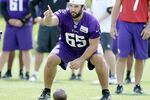 Four NFL centers—6-foot-4, 307 pounds on average—will soon be marketing moistened toilet paper sheets called One Wipe Charlies. The New York Post reports that the Dallas Cowboys' Travis Frederick , the Minnesota Vikings' John Sullivan, the Buffalo Bills' Eric Wood, and the San Diego Chargers' Nick Hardwick have signed on for a marketing campaign to pitch the wipes sold by the razor subscription service Dollar Shave Club. The Post calls it "one of the oddest promotions to involve NFL players," because, you know, poop and butts.
When it comes to selling hygiene products to men, however, enlisting professional athletes isn't odd at all. It's the norm. And the more likely a product is to turn a dude into an object of macho scorn, the more masculine the pitchman. To sell slightly upscale lotions and soaps, get Magic Johnson and other hoops legends.
For loofahs, get late running back Craig "Ironhead" Heyward to call them "lather builders."
Adult diapers? Try 370-lb retired lineman Tony Siragusa giving gruff instructions to "guard your manhood with guards and shields for men."
For advertisers, the bathroom demands the opposite of the barroom. Instead of playing up fear of the feminine, you need to soothe it.
Before it's here, it's on the Bloomberg Terminal.
LEARN MORE