GWU Says Ousted Dean Was Falsely Accused
Louis Lavelle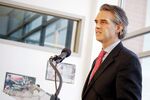 The dean of the George Washington University School of Business was falsely accused of "inappropriate relationships" and financial improprieties before he was fired last month, the GW Hatchet student newspaper has reported.
Doug Guthrie, who did not respond to a request for comment, believes the allegations against him played a role in his firing, according to the Hatchet. But the university denied that, saying in a statement that it had repeatedly assured Guthrie that the allegations had nothing to do with his dismissal.
Guthrie was dismissed as dean, and as vice president in charge of China operations, on Aug. 22 but remains at the business school as a tenured professor. In an e-mail to faculty, Provost Steven Lerman said that "fundamental differences about financial and operational performance were significant enough to warrant a change in leadership." A few days later the Hatchet reported that the reason for Guthrie's dismissal was overspending by $13 million last year.
But on Monday the Hatchet reported that Guthrie was the target of allegations that he had engaged in inappropriate relationships with senior university officials and was skimming profits from the university's activities in China. The university, which would not discuss the allegations in detail, says both claims were investigated and that it had "found no evidence" to substantiate any of them.
The Hatchet reported that the professor who chairs the Faculty Senate Executive Committee, Scheherazade Rehman, is under investigation for allegedly making the unfounded claims against Guthrie. But the university maintains that she played no role in Guthrie's dismissal, and Rehman, in an interview with Bloomberg Businessweek, called the allegations against her "groundless."
Join the discussion on the Bloomberg Businessweek Business School Forum, visit us on Facebook, and follow @BWbschools on Twitter.
Before it's here, it's on the Bloomberg Terminal.
LEARN MORE