GM's Anti-Tesla Battery Is Here—and It Costs Too Much
by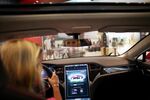 General Motors is bent on making a Tesla-killer, and its technology might be getting a bit closer to the showroom floor.
Earlier this summer, Chief Executive Officer Dan Akerson appointed a crack team to pick apart Tesla's product and plan and see how it might disrupt GM's own business plan. Steve Girsky, GM's vice chairman, told Bloomberg News in a July interview that he had taken to handing out Apollo 13 patches to invoke the against-the-odds 1970 space mission. "The definition of success at R&D used to be how many patents have you generated?" he said at the time. "Well, we have a new definition of success: How much of your stuff actually goes into the car?"
Fast forward nearly two months, and GM—the same Detroit giant that brought you the Chevy Suburban—is at work on an electric-car battery that goes 200 miles on a single charge, according to a report in the Wall Street Journal this morning. The work at GM's battery laboratory in Warren, Mich., has already paid off in technology that can go the distance, an executive told the newspaper, but the cost remains too high for the sought-after sticker price, which starts around $30,000.
There are now 15 car models in the U.S. that plug into sockets, with Tesla's $70,000 Model S the only option for a long, luxurious drive. GM knows it needs to get greater range, as well as a lower price, in order to compete. Its Chevy Volt has an electric-only range of under 50 miles, although it can go almost 400 miles with the help of a small gas engine.
Not just GM is studying Tesla CEO Elon Musk's playbook. Just about every major carmaker on the planet is working on a Tesla alternative. Just a few days ago, Volkswagen said it intends to become the largest seller of electric vehicles by 2018. BMW, too, is nosing into the race with the i3, its first electric vehicle.
For now, at least, Musk's machine has nothing but a straight and empty road in front of it, and that's part of the reason why its market value is a stratospheric $20 billion. Investors are buying the company's potential—and future revenues—instead of its near-term earnings. But the overall electric-car market in the U.S. remains tiny at this point: less than 4 percent of the 11 million or so vehicles sold so far this year.
That relative sliver of the U.S. auto market, along with the inevitable arrival of increasingly appealing alternatives to the Model S, are a big part of why Tesla remains one of the companies most heavily bet against by skeptical investors. The most recent count shows roughly 27 percent of Tesla shares are on loan to short sellers.
Before it's here, it's on the Bloomberg Terminal.
LEARN MORE