Colts Quarterback Andrew Luck Dumps Gatorade for a Stake in Upstart Bodyarmor
It all goes back to 50 Cent and Vitamin Water.
by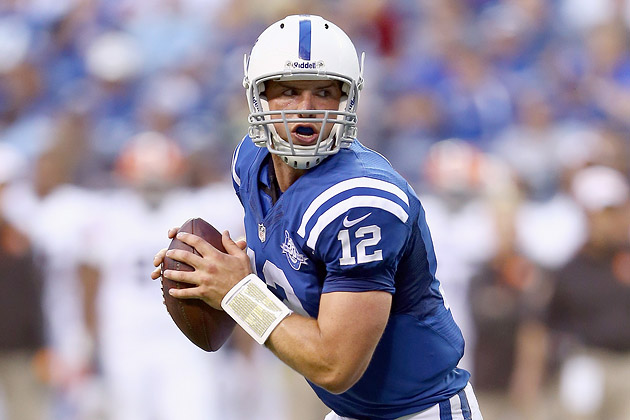 Before he became the first pick of the 2012 NFL draft, Indianapolis Colts quarterback Andrew Luck was already pitching Gatorade, or at least testing his reaction time for the Gatorade Sports Science Institute. He has a new energy drink now, Bodyarmor. The company, a two-year old venture from the creator of FUZE Beverage and the co-founder of Vitaminwater, announced a multiyear partnership with Luck today.
The deal includes a stake in the company for Luck, who joins a list of Bodyarmour endorser-investors that includes fellow NFL players Rob Gronkowski, Ray Rice, Jason Pierre-Paul, and LeSean McCoy, as well as Major League Baseball's Mike Trout and Buster Posey. Luck says he discovered Bodyarmor while still in school at Stanford University.
After he arrived in the NFL, he realized he didn't have to be a paying customer. "I used it a lot," Luck said by phone yesterday. "And then as I sort of understood the position of the quarterback and some of the off-the-field things, I realized: Hey, maybe there is a chance to contact these guys and get some free drinks out of it." The endorsement deal grew from there.
Luck is part of larger trend among professional athletes toward equity deals with their sponsors. In 2010, New England Patriots quarterback Tom Brady got a stake in Under Armour in his contract with the apparel maker. Dwayne Wade of the Miami Heat has a piece of Chinese sneaker maker Li Ning. And Wimbledon champion Andy Murray recently took a stake in Fuse Science, which makes muscle rubs and energy drinks.
All of them follow rapper Curtis Jackson, better known as 50 Cent, who made something like $60 million from his 2004 investment deal with Glaceau Vitaminwater when Coca-Cola bought the brand for $4.1 billion in 2007. "Obviously, that's always the hope when things like this happen," says Luck, "The Vitaminwater story, if you will."
For every Vitaminwater story, however, there are dozens and dozens of busts. "Ninety percent of the stories turn out to be huge losses," says Steve Piascik, founder of the accounting firm Piascik, which specializes in advising athletes. Still, when the equity is in lieu of payment, athletes are essentially playing with house money. Luck says his risk from the Bodyarmor deal is minimal. "There's always a risk in any equity," he says. "That comes with any partnership."
If Bodyarmor succeeds, Luck not only stands to gain more than he would in a typical endorsement deal, but will also benefit from a lower tax bill. Any appreciation in his Bodyarmor investment counts as a capital gain, rather than ordinary income. That difference would cut the federal taxes on that income in half, from about 40 percent to 20 percent.
The potential tax savings is news to Luck. "I think that's a little above my level of thinking," he says. "I feel very fortunate to have a phenomenal agent."
Before it's here, it's on the Bloomberg Terminal.
LEARN MORE