Catering to the Colonel: Cheryl Delaney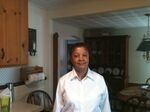 Cheryl Delaney tried retirement. She didn't like it.

After a year of "doing nothing," the 66-year-old resident of Milton, Massachusetts, is back at work, in a job more physically demanding than any she held in her four-decade career in banking and finance. Her last office job was a nine-year stint as a receptionist for traders and their support staff at a large investment firm. Now she provides support of a different kind. Below are edited excerpts of her conversation with Bloomberg's Ben Steverman:
I was pushed out at 60, and I didn't want to retire. For the next three years I worked for several staffing agencies, and they kept me busy. Then I decided to take a year off and do nothing.
I got bored as heck. My husband said he noticed I was starting to get in the rut of just watching TV and sitting around all day.
After more than 40 years of doing office work, I didn't want to look at another office. I really didn't. Instead, I'm a caregiver to a 95-year-old retired Army colonel. I got the job after a company whose resume-writing service I used a few years back, RetirementJobs.com, called me. [RetirementJobs.com is a website for job applicants over 50 that runs a staffing agency for elder care.]
The colonel is the toughest client in the assisted-living community where I work. Everyone thinks I'm crazy, because he's so tough. He had gone through tons of caregivers. I've been with him nine months. He's a challenge, but I like a challenge.
Every cent that I make we can just squirrel away. My husband is a little younger than me. He'll be 64 in November. We've always both been very conservative as far as savings. I would assume that once he retires, I'll probably do it, too. We'd like to go down south, to Beaufort, South Carolina. Something about Beaufort is very appealing, very community-oriented. The cost of living is probably a third lower than it is in Massachusetts.
Some of my friends think they can just afford to live on Social Security. Not true. A lot of people think Medicare is free. They don't realize you have to pay for part of it. Some of my baby boomer brothers and sisters are just not ready, unfortunately, for retirement. I don't think we are ready yet either. If you really like to live -- to be able to go out once in a while to a dinner and a movie, for example -- you've got to have money.
Before it's here, it's on the Bloomberg Terminal.
LEARN MORE