A 'Bargain' Fighter Jet for Austere Times
By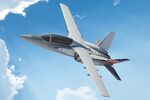 When fiscal times are  tight, some defense contractors load up on lobbyists and tout all the work they've spread around the country. Others have a different approach: make a cheaper fighter jet. That's the thinking behind the new Scorpion, a "versatile Intelligence, Surveillance and Reconnaissance (ISR)/Strike aircraft platform," unveiled today by Textron AirLand, a joint venture between Textron and AirLand Enterprises.
"The Scorpion is designed to accommodate the increasingly stringent budget constraints of the U.S. Department of Defense and U.S. partner nations," the companies said today in a news release. No word on the sticker price; Textron began developing the jet on spec in January 2012 and hopes also to sell it abroad. The Rhode Island company builds Bell helicopters, Cessna business jets and golf carts, too.
Textron may have found a market niche here: Lockheed Martin's F-22 Raptor fighter and F-35 Joint Strike Fighter have caused Uncle Sam budget heartburn for years. The latter plane, for example, is the Pentagon's largest weapons program—and is approaching a total cost of $400 billion.
Before it's here, it's on the Bloomberg Terminal.
LEARN MORE