Vocativ Brings Data-Mining Technology to the News Business
by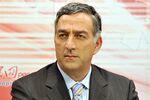 There's another company jumping into the crowded field of New York City-based online news startups. Vocativ, with a website in beta for more than year, describes itself "a media startup built for—and by—the Crowd. We're currently hard at work building a series of extraordinary technologies and ideas."
The site has a serious, international focus and is attracting some high-profile contributors. Vanity Fair writer and former New York Times reporter Kurt Eichenwald recently authored an article attempting to debunk concerns about the NSA's intrusive data-collection programs. Other stories in the past week have addressed the scourge of child brides in Turkey, the effects of a U.S. strike on Syrian refugees, and how the chemical-weapon attacks in Syria overwhelmed local doctors. Vocativ's Manhattan offices, on Seventh Avenue near Penn Station, include a fully equipped digital television studio—a sign of the startup's broad ambitions. Videos from the company include a look at the Tower of David, a notorious slum in Venezuela.
Scott Cohen, the site's chief executive and the former digital editor for the New York Daily News, says the company's mission "is to tell the story of billions of young people in their twenties and thirties around the world and, as trite as it may sound, to use technology to try to change the way journalism is constructed and to deliver stories that other news organizations can't." Until now, however, Vocativ has kept itself shrouded in secrecy even as it has hired aggressively from many corners of the media world. Prospective employees are told only that it is backed by a single wealthy individual.
In an interview, Cohen acknowledged for the first time that the startup's mysterious backer is Mati Kochavi, the founder of AGT International, an international security company based in Switzerland. Kochavi appears to keep a low profile, with little information about his background available online. An article in the New York Review of Books says he made his fortune in real estate before diversifying into security after 9/11. A story on the website Homeland Security Today describes Kochavi as a native of Haifa, Israel, and says he "was always interested in information and its uses."
Cohen says that Vocativ is using technology developed at one of Kochavi's other companies, Israel-based Open Mind, to scour open databases such as social networks and e-mail groups and identify interesting trends and topics. Those leads are then turned into stories by Vocativ's staff of editors and analysts. Kochavi, Cohen says, believes that similar data-mining technologies recognized the Arab Spring and the global financial crisis faster than traditional media, and he wants his algorithms to serve as a kind of prescient assignment editor for a new kind of online news organization.
"It's strange, we live in an era of information," Kochavi said in a joint interview with former President Bill Clinton, conducted last year by CNBC as part of the Clinton Global Initiative. "We know so much. We have the Internet, we have Twitter, we know everything. And yet again and again we are unable to predict real significant events. That raises a lot of questions, and that's the biggest challenges government have."
Vocativ has about 40 employees in New York and has journalists under contract in 10 bureaus around the world. Cohen recently noted additional freelance openings in Shanghai, Rio de Janeiro, and Mexico City. "While other news organizations are pulling back their international presence, we are going forward in a big way," he says.
Development of the company over the past two years has been chaotic, according to people familiar with Vocativ, characterized by exuberant spending and frequent management turnover. LinkedIn shows that a dozen employees have already left the firm, including Tzvia Bader, who describes herself as a former chief executive (while a representative for Vocativ said she was a vice president of strategy); one-time executive editor Toby Bochan; and Perkins Miller, who was briefly Vocativ's chief operating officer and now works at World Wrestling Entertainment. Cohen says the turnover is characteristic of a young startup trying to find its footing and described a group of recent hires who include experienced executives from NBC, ABC, and the digital-strategy company Blue State Digital.
With its focus on international events, Cohen framed Vocativ as swimming against the tide of trivial online news. "We know our audience of people [in their] twenties and thirties love their vacations and photos and they love their cat GIFs," he says, "but we are not going to offer that."
Before it's here, it's on the Bloomberg Terminal.
LEARN MORE