Vegas's Big Sports Betting Weekend
By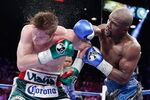 On Friday, before 48 hours packed with marquee sporting events, ESPN declared the stage set for "the biggest betting weekend in Las Vegas." On Saturday, Alabama played Texas A&M in the most anticipated college football game of the year. Later in the evening, the best boxer going, Floyd Mayweather, faced challenger Saul "Canelo" Alvarez at the MGM Grand. In baseball, the New York Yankees were in Boston for a three-game series against the Red Sox. And the NFL had its usual menu of much-loved betting events. It was, as bookmaker Jimmy Vaccaro put it to ESPN, "the perfect storm."
Or maybe just a busy betting weekend. "I'm not going with the biggest weekend ever," Johnny Avello, director of race and sports operations at the Wynn Las Vegas says today. "It's one of the good ones. Let's put it that way." Las Vegas has an annual "perfect storm" of betting called the Super Bowl. In February, it set a new high mark with $98.9 million in legal betting. It is the only sporting event for which the Nevada Gaming Control Board releases specific numbers.
Avello guesses the Mayweather fight, by far the weekend's biggest event, drew about $30 million in bets statewide. The Alabama game, he says, drew maybe $5 million. Overall, he says the weekend saw 20 percent to 25 percent more action than normal for this time of year. Michael Lawton, senior research analyst at the Gaming Board, says he won't see any Mayweather effect until end-of-the-month summaries from bookmakers. Even then, the fight will be lumped into the "other" category.
The more important spillover effect from a marquee fight, Lawton says, comes at the baccarat and blackjack tables. While Super Bowl bettors usually stick to the sports lounge, Avello says, the boxing crowd goes everywhere. "They play all the table games and everything we offer," he says. "That's why we host these fights in town. They are just good for the town in general."
Before it's here, it's on the Bloomberg Terminal.
LEARN MORE