The Navy Yard Shootings and the Muddle of the Gun Foes
Paul M. Barrett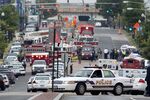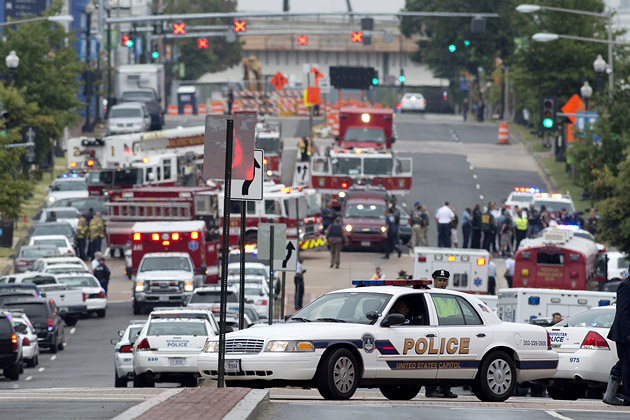 Another senseless mass shooting, and another muddled outburst from gun foes.
Beginning at about 8:15 a.m. this morning, as many as three gunmen opened fire at the U.S. Naval Sea Systems Command in Washington, D.C., in an as-yet unexplained attack. The shooting left at least 12 people dead, including one of the suspected gunmen, according to the latest briefing from Mayor Vincent Gray. Two possible suspects wearing military-style uniforms remain at large.
As I was scanning for grim details on a shooting one mile from the Capitol, I received an e-mail from the Violence Policy Center, a leading gun-control advocacy group in Washington. The message publicized an updated version of the group's report (pdf), Blood Money: How Gun Industry Dollars Fund the NRA. VPC has tried for years to reframe the firearm debate around whether the National Rifle Association and other pro-gun forces are merely shills for greedy weapons manufacturers, as opposed to genuine advocates of Second Amendment principles.
The group has made headway with this message, as illustrated by this morning's Washington Post column by political analyst E.J. Dionne (published before the Navy Yard shooting). Assessing the high-profile ouster last week of two state politicians in Colorado who backed gun-control measures, Dionne opined: "You have to hand it to the gun manufacturers lobby. Children may be slaughtered, the death toll from firearms may keep mounting, but these guys are unrelenting and know how to play politics." (Italics are mine.)
It's too soon to say anything meaningful about the whys and wherefores of the Navy Yard atrocity. It's a good moment, though, to note the self-defeating confusion engendered by proponents of gun control, including the VPC, in their attempts to respond to horrific violence by excoriating American gun culture. Advocating policies aimed at reducing violence should be the core of the gun debate. Disparaging the deeply emotional attachment millions of law-abiding citizens have to guns is a futile exercise.
For example: The VPC sought to capitalize on a massacre at a military installation by suggesting that gun manufacturers call the shots at the NRA. What's more, the gun-control organization decorated this message with sophomoric derision of the NRA's rituals. Describing a ceremony during which gun-industry executives were honored at the NRA's annual meeting in Houston, the VPC mockingly quoted the NRA as saying:
These "selfless, passionate, and devoted leaders" were given yellow sports coats, each with a Golden Ring of Freedom crest on the front pocket, and then took part in "what has become a joyous and loud Golden Ring of Freedom custom: the ringing of the 'Freedom' bell."
Get it? The gun guys aren't selfless or devoted—they're idiots in canary-colored blazers.
Gun company contributions to the NRA have risen over the past decade. Since 2005, corporate donations to the NRA have totaled between $19.3 million and $60 million, according to the VPC's analysis of not-very-precise NRA public records. That sounds like a lot until you put it in context: The NRA and its affiliates have annual revenue of about $250 million. The industry, in short, does not muscle the NRA. As I explained in a Bloomberg Businessweek cover story in March, just the reverse is true:
NRA leadership worries about two things above all else: perpetuating controversy to stimulate fundraising from individual members and protecting its right flank from the real crazies," says Richard Feldman, author of a feisty 2007 memoir, Ricochet: Confessions of a Gun Lobbyist. Feldman has worked in various capacities for both the NRA and the industry. "The idea that the NRA follows orders from the gun companies is a joke," he says. "If anything, it's the other way around.
Suggesting that pro-gun activists are merely a front for corporations vastly underestimates the intensity and focus of grassroots pro-gun forces, such as those that were outspent by their anti-gun opponents in Colorado but still won last week's state Senate recall fight. (Disclaimer: My employer, New York Mayor Michael Bloomberg, majority owner of Bloomberg LP, unsuccessfully backed the ousted Colorado pols.) Even as he embraced the dubious corporate-conspiracy theory, Dionne recognized reality on the ground. "The gun lobby has a large base," he noted. "Those seeking more sensible gun laws still need to build one."
Attacking the NRA in the immediate aftermath of a mass shooting at a naval installation, where many people are presumably allowed to carry firearms, seems at best like an exercise in irrelevance. At worst, it's ill-timed sensationalism. As an alternative, let's sort out what exactly happened at the Navy Yard this morning and then calmly discuss what policies, if any, can deter such slaughter.
Before it's here, it's on the Bloomberg Terminal.
LEARN MORE