The Horror Show Goes on as Insidious: Chapter 2 Takes the Box Office
By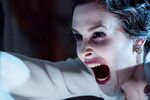 Hollywood's old-school horror revival is going strong. This weekend, Insidious: Chapter 2, the sequel to the 2011 film, posted the second-highest September debut ever with $41 million. (No. 1 is the animated film Hotel Transylvania, with $42.5 million in 2012.) The Insidious sequel cost a meager $5 million to produce, which guarantees it will be among the most profitable movies of the year.
The movie's performance isn't a superlative just for the slasher genre, but for the film's director, as well. James Wan also directed the other big horror hit of the year, The Conjuring, which brought in an eerily similar $41.8 million during its opening run in July. (We should also note that actor Patrick Wilson starred in both films.) As BoxOfficeMojo.com notes, "This is only the second time ever that a director has had two movies open over $40 million in the same year—the Wachowski siblings did it in 2003 with The Matrix Reloaded and The Matrix Revolutions." Unlike the Wachowskis, though, who have failed to recapture the box-office magic of the Keanu era, Wan's immediate future looks promising: He is currently directing the seventh installment in the wildly successful Fast & the Furious franchise (which Vin Diesel has already started teasing on his Facebook page).
The release date for Insidious: Chapter 2 was no coincidence, as it arrived in theaters on Friday the 13th. Almost half the movie's weekend gross of roughly $20 million came from that first day, which led to a considerable drop-off on the weekend. In April 2011, the original Insidious opened to a more modest $13 million, but word of mouth and warm reviews by critics led the film to earn a solid $54 million. In other words: Insidious: Chapter 2, which had decidedly more mixed reviews, may wind up having the opposite trajectory of its predecessor: a huge opening on day one, followed by a large drop-off. Still, there is no way of accurately quantifying the effect of triskaidekaphobia on the film's performance, of course. So let's just say that Friday the 13th arrived during the Patrick Wilson era.