Siemens Said to Plan Naming Either Thomas or Sen as CFO
Angela Maier and Alex Webb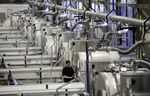 Siemens AG, Europe's largest engineering company, is poised to promote Ralf Thomas or Michael Sen to the position of chief financial officer, said three people with knowledge of the matter.
The Munich-based company has yet to decide between the two candidates, said the people, who are familiar with the hiring process and asked not to be named as the talks are private. Thomas is the finance chief of Siemens's industry division and Sen holds the same role at the health-care business.
While the CFO shortlist also includes two external candidates, an internal appointment is the preferred option because of Siemens's complex structure and both Thomas and Sen are well regarded within the company, the people said. The finance chief may be appointed at a supervisory board meeting on Wednesday, the people said. Siemens declined to comment.
The company needs to name a new finance chief after Joe Kaeser became chief executive officer last month, replacing Peter Loescher after five profit forecast cuts in six years. The new CFO will need to manage the finances of a company that has 60 sub-units and manufactures products including trains, gas turbines, medical scanners and factory automation gear.
'Extremely Familiar'
"You want folks that are extremely familiar with all of the different sectors of the company," New York-based William Blair & Co. analyst Nick Heymann, who rates Siemens market perform, said by telephone. ''They also want continuity and longevity, and someone who gets on with the rank and file. Loescher tried to change the strategy of the company, but you need someone who works from the ground up, rather than from the macro scale down.''
Loescher, an Austrian national, who joined Siemens from drugmaker Merck & Co. as the company's first external appointment as CEO, had to write down the value of several acquisitions, and drove a failed push into environmentally friendly energy that led to spiraling costs.
Sen's path has crossed with that of Kaeser on numerous occasions. The 44-year old native of North Rhine-Westphalia in western Germany first worked with now 56-year-old Kaeser in the corporate finance department in the late 1990s, before following him to the information and mobile communication business and corporate development department. Sen then served as head of investor relations for a year before assuming the health-care CFO role in 2008.
Catching Up
Like Sen, as CFO of the industry sector Thomas reports directly to Kaeser. He moved into the job at the end of 2007 from a position heading the reporting and taxes functions at the corporate finance division. With profit representing 12 percent of sales in 2012, industry was the second-most profitable of Siemens's four divisions, lagging behind health-care's 13.3 percent.
Kaeser joined Siemens in 1980, holding a series of administrative and financial jobs in a career that took him to Malaysia and California. He became chief strategy officer in 2004 before being promoted to the top finance job in 2006.
Siemens had a profit margin of 9.5 percent in 2012 when competitors ABB Ltd. and General Electric Co. had margins of 10.3 percent and 15 percent, respectively. So-called sector profit from the main health care, industry, infrastructure and energy divisions fell to 1.26 billion euros in the fiscal third quarter of this year, from 1.82 billion euros a year earlier.
Asset Sales
The new CFO will need to assist Kaeser in selling some underperforming assets. Siemens already this year sold its share in a six-year phone gear venture to Nokia Oyj for 1.7 billion euros. Also earmarked for sale are a water business and units offering parcel automation, airport logistics and airfreight.
Siemens today rose 1.2 percent to 87.99 euros in Frankfurt trading, valuing the company at 77 billion euros ($103 billion). Since Loescher took over in July 2007, the shares have declined 15 percent. Germany's DAX index gained 8.6 percent in that period.
The supervisory board on Wednesday may also appoint a successor for its deputy chairman Josef Ackermann. The former Deutsche Bank AG CEO last week said he'll step down from the position, two weeks after he resigned as chairman of Zurich Insurance Group AG following his naming in the suicide note of finance chief Pierre Wauthier.
Power Struggle
Ackermann's move was prompted by disagreements over the ousting of Loescher and as public pressure mounted amid questions about his role at Zurich Insurance, people familiar with the matter said last week. Ackermann also decided to step down after his own attempt to become Siemens chairman and replace Gerhard Cromme failed in July, the people said. Ackermann denied that he tried to replace Cromme and also said that his Siemens departure is not connected to Zurich Insurance.
Ackermann's successor won't be a Deutsche Bank executive, according to a person familiar with the matter. Siemens also won't replace Ackermann with Linde CEO Wolfgang Reitzle, the person said. German publications including Sueddeutsche Zeitung had reported that Reitzle, who is set to step down from his Linde job in May 2014, may be a potential future Siemens chairman to take over from Cromme.
Before it's here, it's on the Bloomberg Terminal.
LEARN MORE