Jersey Shore Boardwalk Businesses Try to Rebuild—Again
Business owners await $15 million in aid promised by Chris Christie
by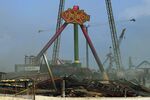 Bob Stewart has spent nearly half a century working on the boardwalk in South Jersey's Seaside Heights and Seaside Park. Last October's Hurricane Sandy wrecked his latest venture, the Carousel Arcade, exacting losses of around $1 million. Then, on Sept. 12, a massive fire demolished what he and dozens of other storefront owners had rebuilt. His 15-employee business had insurance on only $200,000 worth of equipment. Stewart, a local firefighter, says he was sick to his stomach when he was done battling the blaze: "I got physically ill thinking about the devastation."
Two days after the fire, New Jersey Governor Chris Christie announced $15 million in aid for stricken businesses. That day, Stewart says, he spoke to Christie at a meeting at the local courthouse, asking him, "Governor, are you going to shake the tree and let the money loose? Is it going to be a year before we see money? Because in a year from now, I'm going to lose my house. I'm going to lose everything."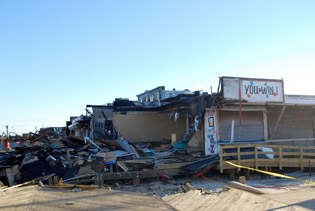 Many business owners on the boardwalk say government agencies made it hard to tap business loans and grants after Sandy. Stewart says he's the only boardwalk business owner he knows who received a Small Business Administration loan, and that's because he "pulled the Vietnam veteran card," guilt-tripping the SBA official who initially denied his application.
In an e-mail, agency spokeswoman Carol Chastang said, "When reviewing each disaster loan application, we make sure the business owner is able to repay the loan." The SBA has approved more than 1,800 disaster loans to New Jersey businesses affected by Sandy, for a total of $190 million.
Virginia Pellerin, a spokeswoman for the New Jersey Economic Development Authority (NJEDA), says it's processing grant and loan applications as fast as possible, and many business owners "consider the program to be a godsend." Since the grant program began in May, 511 applications have been submitted, though only 68 grants have been approved, with disbursements made to 48 businesses, Pellerin says.
Angela and George Papoutsakis, whose pizzeria stall was steps from the blaze but didn't catch fire, lost their previous boardwalk restaurant to Sandy. They say they filed paperwork with their insurer and government agencies but haven't collected a penny. The insurer called it a " 'mini-tsunami,' and they don't cover tsunamis," says Angela. The SBA rejected their disaster loan application because they didn't have a commercial lease—their landlord put the damaged building up for sale—and they could not produce tax records, which were soaked in the flood. The $50,000 state grant they applied for from the NJEDA this May has been approved, says Angela, but the check hasn't come.
Keith McKenna, a partner with New York law firm Kasowitz, Benson, Torres & Friedman, says boardwalk businesses will do better with insurers this time. Fire claims are more straightforward than those from Sandy, where various factors such as winds, flooding, and collapsing structures contributed to the damage, he says. The caveat for smaller companies, McKenna adds, is that many insurance companies "deny, delay, and hope that some of these people will just give up in frustration and go away."
Business was down so much at Shore Amusements after Sandy that owner Eric Faranda opted to go without insurance coverage. He estimates he lost roughly $100,000 in inventory and equipment when the space he rented burned. That's triple his loss after the hurricane, he says, when "there was no substantive help directly to the people who owned businesses" on the boardwalk. Because of the onerous terms for SBA disaster loans and the expected lag from approval to disbursement, Faranda withdrew his application, he says. This time "it's a smaller, contained thing, [and] the governor stopped what he was doing, came down, [and] addressed us individually and personally. I believe what he said."
Before it's here, it's on the Bloomberg Terminal.
LEARN MORE