London Top New Restaurants Serve Ruby Curry, Marshmallows
undefined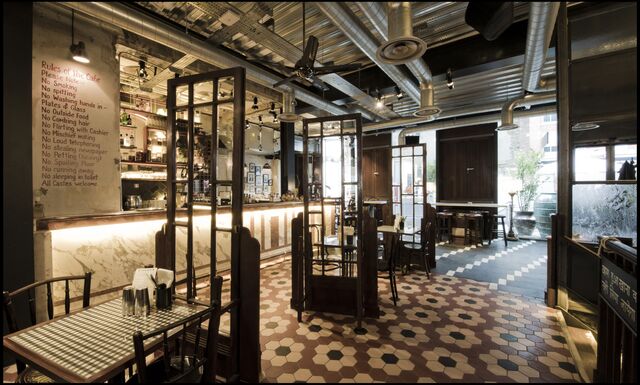 Restaurants are opening so quickly in London, it's difficult to keep pace.
Within the next few weeks, Gordon Ramsay and three of his chef proteges -- Mark Askew, Jason Atherton and Angela Hartnett -- will all introduce new establishments. Now is a good time to take stock of some of the best of the past year or so.
Here are 10 of the top new restaurants. If you only have time to visit one, Grain Store is the most exciting.
28-50: This wine workshop and kitchen is growing into a mini-chain. Don't let that put you off. If anything, 28-50 is getting better as it expands, with a new branch opening in Mayfair this month. It's the baby of Agnar Sverrisson and Xavier Rousset, business partners who own Texture and were previously head chef and sommelier at Le Manoir aux Quat' Saisons. The food is very good and the choice of wines exceptional.
http://www.2850.co.uk/ or +44-20-7725-1330
Dishoom: This Bombay (Mumbai) cafe is one of the places I go to eat when I am off duty. I like the high-ceilinged room, I like the friendly service and I like the cocktails. But I go for the food, which is delicious and inexpensive. Favorite dishes include the lamb raan bun (12.50 pounds) and the chicken ruby (7.90 pounds). Dishoom is open all day, with a great breakfast. http://www.dishoom.com/ or +44-20-7420-9324
Fish & Chip Shop: This posh chippie in Islington serves Sancerre and Champagne, as well as roasted salmon salad and griddled tiger prawns. But the chip-shop standards of battered cod, plaice and haddock are all there, along with crushed peas (not to be confused with guacamole) and pickled onion. It's the brainchild of Des McDonald, former chief executive of Caprice Holdings, which owns J. Sheekey and the Ivy.
http://www.thefishandchipshop.uk.com/ or +44-20-3227-0979
Flesh & Buns: This new and popular Izakaya restaurant is housed in a basement in Covent Garden. It's filled with young people and can be noisy. It's worth the aural aggravation for the food, especially steamed buns filled with meat or fish. The flat iron steak (15 pounds) is a good pick. A dessert where you toast marshmallows over a flame is popular with groups. Flesh & Buns is the creation of Ross Shonhan, former executive chef at Zuma.
http://www.fleshandbuns.com/ or +44-20-7632-9500.
Grain Store: Game-changing restaurants come along every few years. The Wolseley (2003) did it for all-day brasseries, Arbutus (2006) for inexpensive gastronomy and Polpo (2009) for New York-style casual dining. Grain Store is next in this illustrious line, for putting vegetables at the center of each plate. Chef Bruno Loubet has created a menu of exciting new dishes. This is a formula that might work around the world.
http://www.grainstore.com/ or +44-20-7324-4466
Jugged Hare: This pub near the City serves some of the gutsiest food in London, specializing in game. There's an eight-spit rotisserie and a charcoal grill where you can watch your food being prepared. Standout dishes include the mutton bomb, where braised shoulder of lamb is wrapped in pastry like a cannon ball. The wine list is also special, with plenty of choice by the carafe and even fine wines available by the glass.
http://www.thejuggedhare.com/ or +44-20-7614-0134
Lockhart: This is a rarity in London, a restaurant that specializes in southwest U.S. cuisine. The inspiration comes from Louisiana, Texas and New Mexico; the produce mainly from the U.K.
A key figure here is General Manager Bunmi Okolosi, best known as the maitre d' who opened Dinner by Heston Blumenthal. He's popular on the London scene and previously managed Lima.
http://lockhartlondon.com/ or +44-20-3011-5400
Newman Street Tavern: This Fitzrovia establishment looks like a pub and serves fine food. The chef and partner is Peter Weeden, previously of Paternoster Chop House and the Boundary. He orders whole carcasses and does his own butchery. Fish and seafood arrive daily from the Cornish Coast. The menu changes daily. Right now, the grouse is to be recommended. It's not cheap but prices are below the West End.
http://www.newmanstreettavern.co.uk/ or +44-20-3667-1445
Picture: Informal venues with small plates, low prices and friendly service are growing in popularity as London follows New York. Picture was created by friends who worked for Anthony Demetre and Will Smith of Arbutus. The food is of high quality, with plates costing about 7 pounds. Try the Lebanese fried chicken, bulgar wheat, sweetcorn. The wine list is a work in progress. http://picturerestaurant.co.uk/ or +44-20-7637-7892
Tonkotsu: This Soho spot, opposite the Groucho club, has quickly attracted fans for its ramen, served with pork belly in a rich pork stock. Ramen joints are popular in New York and are now catching on in London. The karaage fried chicken and gyoza dumplings are a must. Tonkotsu is friendly but it can get noisy and very busy, so don't expect a genteel sushi-bar experience. http://www.tonkotsu.co.uk/ +44-20-7437-0071 or +44-20-7437-0071
(Richard Vines is the chief food critic for Muse, the arts and leisure section of Bloomberg News. He is U.K. and Ireland chairman of the World's 50 Best Restaurants awards. Opinions expressed are his own.)
Muse highlights include Mark Beech on arts, John Mariani on wine and Lance Esplund on U.S. art.
Before it's here, it's on the Bloomberg Terminal.
LEARN MORE