Lawrence Summers Withdraws From Fed Consideration. You're Welcome, Mr. President
By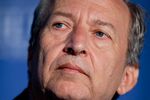 Lawrence Summers did President Obama a favor by withdrawing his name from consideration for chairman of the Federal Reserve. Mired in Syria, budget talks, Obamacare, and the debt ceiling, the last thing Obama needed was a knock-down, drag-out fight over his pick to run the Fed.
Summers's withdrawal, reported today by Bloomberg News and other media, opens the way for Obama to nominate Janet Yellen for the top job. Yellen, 67, currently the Fed's vice chairman, is an accomplished economist and veteran of the central bank who would be the first woman to head the Fed after Ben Bernanke completes his second term on Jan. 31. Best of all for Obama, Yellen has a calm and firm but conciliatory manner that impresses even ideological opponents, making her a far better bet for Senate confirmation than Summers, who's brilliant but divisive.
Obama has respect for and trust in Summers, 58, a former Treasury secretary in the Clinton Administration who was Obama's first National Economic Council director. But opposition to him had been steadily mounting, even among some Democrats. On Friday, Senator Jon Tester, a Montana Democrat who sits on the Senate Banking Committee, said he would vote against Summers if he were nominated. The Wall Street Journal reported earlier that three other Democrats on the committee—Jeff Merkley, Sherrod Brown, and Elizabeth Warren—had indicated their opposition. That raised the possibility that Summers's name wouldn't even pass the Banking Committee to reach the floor of the Senate.
What's unknown is whether key players in the Obama Administration approached Summers and urged him to take his name off the table. A first guess: That's unlikely, because it would be obvious to Summers, as well as others, that only Obama could have authorized such an approach. That would be seen as a slap in the face to a valued adviser. More likely is that Obama quietly hoped that Summers would take a clue and withdraw on his own. Journalists will be all over this in coming days, so the truth may surface soon.
It's a mark of the importance of the announcement that it came on a Sunday. "Larry was a critical member of my team as we faced down the worst economic crisis since the Great Depression, and it was in no small part because of his expertise, wisdom, and leadership that we wrestled the economy back to growth and made the kind of progress we are seeing today," Obama said today in a statement released by the White House. "I will always be grateful to Larry for his tireless work and service on behalf of his country, and I look forward to continuing to seek his guidance and counsel in the future," he said.
Summers, a former president of Harvard University, was known outside of financial circles for negative comments on the aptitude of women for math and science. He also had close and continuing ties to the financial institutions that the Fed is in charge of regulating. Last week, Citigroup announced that Summers was suspending his activities with the bank while his name was under consideration. He had been scheduled to give the keynote address on challenges to the global economy at a Citigroup research seminar on Oct. 13.
A Summers nomination would have embroiled the Fed more deeply in politics, as Bloomberg Businessweek reported this month, because Summers would have been perceived in some circles as an Obama ally rather than as a politically neutral, monetary technocrat.
Before it's here, it's on the Bloomberg Terminal.
LEARN MORE