Obama's Union Allies Want a Big Obamacare Gift
By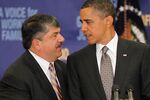 Some of the U.S.'s biggest unions were also among the biggest helpers to President Obama in getting the Affordable Care Act passed in 2010. These days, though, they aren't so pleased with the way Obamacare is being implemented. That tension spilled into public view last week, when member unions of the AFL-CIO passed a resolution calling for major changes to the law at the organization's quadrennial convention. Their demands aren't small.
What are their hang-ups?
1. Unions want tax subsidies for their members.
This would be a big gift. Under the law, the only people eligible for subsidies are uninsured, lower-income workers who will be buying health plans through state or federal marketplaces—that is, people who don't have any other way to get coverage. But union workers already get health coverage. They participate in group health plans that aggregate contributions from multiple employers. These plans were set up decades ago as a way to ensure that organized workers who toil for multiple employers at once, or who switch jobs frequently (truckers, landscapers, and construction workers), would have continued access to health care. Employers and union representatives jointly administer the health plans.
So why would labor leaders argue that these plans be treated like state and federal marketplaces where buyers can access subsidies? Paul Secunda, a law professor at Marquette University, says about 20 million union workers are covered under these group health plans. A large percentage of those covered, he says, work for small employers. And small employers—those with fewer than 50 workers—aren't subject to the Obamacare mandate requiring employers to either provide health coverage or pay a $2,000 penalty. The fear is that employers could decide it's cheaper to stop offering coverage and tell workers to shop for health plans on the public marketplaces instead. The unions fear this could potentially cost their workers more money.
It's not hard to see an additional reason why labor would be concerned: Right now, workers depend on their union reps to negotiate the health coverage they get under the group health plans. If small employers stop offering coverage, one job of the union reps disappears. "They don't fit in real well," says Gary Claxton, vice president at the Kaiser Family Foundation.
2. Union workers shouldn't have to pay reinsurance fees.
Labor leaders say they're also upset about having to pay a so-called reinsurance fee the government is levying for the first three years that the public marketplaces are open. The speculation is that most of the uninsured who sign up for health plans through the marketplaces will be the sickest registrants. To be sure they get the coverage they've been promised, the government created a reinsurance pool that will be tapped if insurers come up short because not enough healthy people are paying into the system. The unions say it's not fair that they have to pay this reinsurance fee—it's $63 per worker in 2014, less after that—if their workers aren't eligible for subsidies. It's a difficult argument because it's not just unions who have to pay the fee. "All employers are on the hook" for it, as Secunda puts it.
3) Unions dislike the way Obamacare separates full- and part-time work.
Employers whose workers put in less than 30 hours a week aren't required to provide health plans for those employees. Labor leaders say this will encourage employers to cut workers' hours to avoid offering coverage and save money. It's a concern shared by others outside the labor community. Even employers who currently offer health benefits to part-time workers are spotting savings thanks to the Obamacare marketplaces: Trader Joe's announced that it will stop offering health plans to part-timers and encouraged them to go shop on the marketplaces instead.
Labor leaders have been working behind the scenes all summer trying to get the Obama administration and members of Congress to make accommodations. They're annoyed at concessions offered to big business (delaying the employer mandate until 2015) and to religious employers (allowing them to exempt contraceptive coverage from their plans). The unions are arguing that it's now their turn for a break. In a letter that three labor leaders reportedly sent to Democratic leaders in Congress over the summer, they weren't shy about asking for payback in exchange for supporting the law. "Time is running out: Congress wrote this law; we voted for you," they wrote. "We have a problem; you need to fix it."
The president found himself an unenviable position. Some member unions of the AFL-CIO were considering calling for repeal during the labor organization's convention. Obama, who was apparently worried about the public spectacle of what would basically amount to a union walkout over Obamacare, pressed AFL-CIO President Richard Trumka to do everything he could to shut down the repeal attempts and sent two administration officials to the convention as a way to signal that the White House is listening.
Meanwhile, Republicans in Congress have already seized on the union tensions. Senator John Thune (R-S.D.) introduced a two-page bill last week that says there shall be no special carve-outs or exceptions under Obamacare for unions. The bill won't go anywhere in the Democrat-controlled chamber, but that's not the point—it gives Republicans a chance to throw darts at a law they hate while attacking the president for even entertaining the conversation with labor.
On Friday, multiple experts in the law told me that they don't see a way out of the mess. "I'm sure the Obama administration would like to make life easier for them, but there's really not much [the administration] can do within the terms of the statute," says Timothy Jost, a law professor at Washington & Lee University. If somehow the White House does try to make an argument that union group health plans should be treated differently than others, adds Secunda, "you can bet your bottom dollar that this will be challenged in the courts."
Late Friday, according to the New York Times, the Treasury Department weighed in on the unions' biggest request and said definitively that workers in union health plans can't get subsidies.
The president might just have lost some of oldest allies. But the decision had the unusual effect of eliciting some backhanded praise from his Republican enemies. "When it comes to employers and taxpayers picking up the health care tab for labor unions — it appears that is a price that is simply too high," Republican Representative Dave Camp and Republican Senator Orrin Hatch said in a joint statement. "Perhaps even this administration recognizes that there are limits to them stretching the law to reward their friends."
Before it's here, it's on the Bloomberg Terminal.
LEARN MORE