World Cup 2022 in Qatar: Between the Clock and a Hot Place
FIFA head Sepp Blatter admits the obvious: It's hot in Qatar in summer. Now what?
by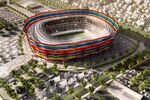 Earlier this week, in an interview with Inside World Football, FIFA President Sepp Blatter said that "playing the World Cup in the heat of Qatar's summer was simply not a responsible thing to do." This wouldn't be news, except that three years ago FIFA awarded Qatar the World Cup for 2022. The tournament, which is the world's most widely viewed sporting event, is played in June and July. Back then, Blatter and company were apparently swayed by the promise of "nine new fully air-conditioned open-air stadiums that work using solar power." Now he is suggesting the event needs to be moved to November.
So which Sepp Blatter is right? Is a summertime Qatar World Cup feasible? Sports architecture firm Populous helped convince FIFA that it was by designing a miniature, air-conditioned showcase stadium in Doha. A year later, the firm declared air conditioning too expensive and "notoriously unstable" and recommended scrapping it for the 47,500-seat stadium it is designing for 2022. Populous suggested natural ventilation instead—pulling hot air up through wind towers to create a draft—and that match-goers adjust their temperature expectations from about 79 degrees to 86 degrees. (Populous declined to comment on its current thinking.)
Qatar in June and July is unquestionably brutal. "It is Phoenix meets New Orleans," says Jack Boyle, a design and construction consultant in Kansas. Boyle used to work for Populous and designed the University of Phoenix Stadium, where the NFL's Arizona Cardinals play. In 2009, he was part of Populous team that visited Qatar to submit a bid for a complex of buildings, including a soccer venue, for the public university in Doha.
The combined heat and humidity, he says, make air conditioning doubly difficult. Half the energy is spent pulling moisture from the air. The closest U.S. comparison, he suggests, is Houston, where the newly built Reliant Stadium is dealing with gushes of water from the air conditioning soaking insulation and pipes. To make matters worse, winds from the Persian Gulf blow wet sand everywhere. "They joke if you live there long enough," Boyle says," your lungs will be lined with stucco."
Still, Boyle says it's not impossible for the country to host a bearable summer World Cup. "If you want it bad enough, you can do a lot of things with money," he says. For Qatar, that could mean history's biggest air conditioning bill. "There are some pretty amazing things you can do by orientation and material selection and utilizing prevailing winds," Boyle says, "but if it's hot, it's going to be hot." Air conditioning, in one form another, is the only way to reduce the temperature of the outside air.
Mike Soligo is chief executive of the environmental engineering firm RDWI, which specializes in managing climate effects and is consulting on Qatar stadium projects. He's also not ruling out a summer World Cup. "That's a loaded question that I'm going to dance around," Soligo says, "It's a massively challenging project. But can it be done? I believe so." Standards, he says, will have to be adjusted. "You have to look outside of the comfort zone that North Americans have. I think we can get it to a position where a lot of people say, 'I'm surprising comfortable given where I am and the time of year.'"
The question for Blatter and FIFA is whether it's easier to alter the weather in Qatar and the demands of first-world customers or to shift dozens of professional soccer schedules and the expectations of broadcast partners.
Before it's here, it's on the Bloomberg Terminal.
LEARN MORE