Want to Sell Cologne? Add 'Sport' to the Name
By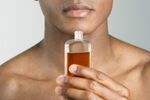 Men want to smell good. Of course, "good" here means something entirely different from Japanese cherry blossom or Cashmere glow or any of the other fancy scents marketed to women. Judging by recent cologne sales, men apparently want to smell like athletes. (Which, if you think about it for two seconds, probably isn't that good at all.)
Regardless, so-called "sports fragrances" have been growing at a rapid clip. According to NPD Group, in the 12 months ended June, U.S. department store sales of sports fragrances (which NPD defines as brands with "sport" in the name) were $40.8 million, up 16 percent year on year. That's much faster than the 5 percent growth in sales for all men's fragrances.
Some men's deodorants also put "sport" in their labels, but that at least makes some sense—if you're playing sports, you'll need deodorant. But no sport requires a spritz of fragrant oil to the neck or body—with the possible exception of wrestling, where you can be extra polite to the dude who's about to put you in a headlock.
These sporty man smells now represent 4.3 percent of the market. The top seller, according to NPD, is One Sport from Dolce & Gabbana. From its official description: "a fresh, clean fragrance with light and energetic top notes accompanied by an unmistakable Mediterranean aroma of rosemary, the freshness of water and saltiness of the sea." In other words: exactly what hockey pads smell like.
Before it's here, it's on the Bloomberg Terminal.
LEARN MORE