Man in Tights: Trying Out Lululemon's Guy Side
Lululemon is targeting guys. Will its strategy work?
By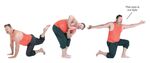 Lululemon Athletica wants me. I'm not particularly stylish and certainly not especially affluent. I'm just a semi-fit guy who runs a bit and every once in a while sweats buckets through a 30-minute Jillian Michaels yoga DVD. In other words, there are a lot of guys like me out there (minus the Jillian Michaels part, I imagine).
It turns out, the number of women willing to shell out $100 for a pair of workout trousers is limited. And with about 218 U.S. locations and a burgeoning web store, Lululemon is stretching its potential. The company's growth has slowed steadily in the past two and a half years.
The company can't really cut prices without destroying its margin and dragging its luxurious brand through the dirt, so it's trying to grow the pie by targeting the less-fair sex. Lululemon is ramping up its selection of menswear and aiming to have standalone men's stores by 2016. This spring, it hired Felix Del Toro, a veteran of the Gap, to head up the effort. What's more, the company has dispatched "ambassadors" to try to spread yoga through professional sports organizations and recently sponsored the annual Wall Street decathlon in hopes that washed-up lacrosse players can help it shed its girly image.
"We are focused on creating a brand that builds on the same philosophy as our women's product, with fit, form, and function at the core, however recognizing the unique characteristics of our male guests," Chief Executive Officer Christine Day told analysts on Sept. 12.
The strategy is showing some traction: Menswear now accounts for 13 percent of total revenue. But it's no exaggeration to say the future of the company is riding on this initiative. So, in the interest of hard-hitting service journalism, I swung by a local store and answered all of your (imagined) questions about taking such a shopping trip.
Will I be self-conscious?
Quite possibly. During the 25 minutes or so I spent at a Lululemon shop on Manhattan's Upper East Side, I was the only guy in the place. Granted, this was around noon on a Tuesday, but there were plenty of women perusing the racks—I counted 12 or so in the time I was there.
Are they serious about dudes?
Yes. About one-third of the store and half the window display was stocked with menswear. Dads, in particular, are keen on the Kung Fu pants ($98), according to one clerk who helped me. And they are reportedly selling a lot of Page Breaker shorts ($64) and short-sleeve Metal Vent Tech shirts ($64), which are laced with silver to kill the bacteria that tend to make sweat-soaked clothes stink. Lululemon will also hem any purchase free of charge.
How great will my butt look?
What every guy is dying to know. Making clothes that fit women's butts just so—arguably better than any other brand—is the main reason why Lululemon is a $10 billion company right now and not just a neighborhood shop catering to Vancouver hippies.
Do its designers have the same mojo with men? From what I can tell, maybe. The clothes absolutely fit better than the generic workout apparel I buy at Target. And they seem just right on par with gear from Nike and Under Armour, the companies Lululemon will have to beat if they want win a sizable chunk of the market for men's sportswear. Here's the thing: I'm equally impressed with the much-cheaper and relatively high-tech workout gear at Uniqlo (although the lights in the Lululemon dressing rooms were far more flattering than what you'll find in Uniqlo).
Should I give it a whirl?
Absolutely. Walk into a Nike store, and you're just another dude with somewhere between two and six abs fewer than the man or woman helping you. Go into Lululemon and you are a rare and special creature. You will feel like Cristiano Ronaldo, or rather, yoga guru Baron Baptiste. At least that's the feeling I got as a steady stream of friendly, non-pushy staff swung by. The company's celebrated customer service really is all its cracked up to be.
I bought some kind of running tank top—a singlet, it's called—marked down from $58 to $39. In short order, the woman ringing up the purchase was offering to throw in a free pair of shorts for me to "product test" (an offer I graciously declined). I asked what was involved and was told each store is simply expected to "surprise and delight" customers—a company mantra often repeated to investors and analysts. Of course, all the attention (and the dearth of male shoppers) could imply that the company's push into menswear is not going all that well. Are they trying to "surprise and delight" men more often than women these days? "Maybe," she answered.
Will I go back?
Of course. There's free yoga every week! Namaste, gentlemen.