Hilton Checks in to IPO as Hotels Stay Crowded
By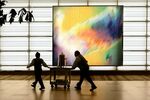 If you've shopped for a hotel reservation recently and been unpleasantly surprised by the rates, you've had first-hand experience of just how good these times have been for the U.S. lodging industry.
In the current environment—since the 2008 financial crisis, steadily rising hotel occupancies have pushed room rates higher—Blackstone Group is understandably eager to take Hilton Worldwide public and recoup some of the $26 billion it paid in 2007 for the chain at the height of the private-equity buying boom. The hotel chain filed its registration on Thursday for a $1.25 billion initial public offering, which is expected in 2014.
"For Blackstone, it doesn't make sense to keep something this valuable on the books," Jeffrey Sica, who oversees about $1 billion at Sica Wealth Management, told Bloomberg News. Hilton's brands include DoubleTree, Embassy Suites, Hampton Inn, and Waldorf Astoria. The company operates more than 4,000 properties in 90 countries.
Rival public chains Starwood Hotels and Resorts and Hyatt Hotels have this year seen their shares rise about 19 percent and 17 percent, respectively. Marriott International, the largest U.S. hotel chain, is up about 14 percent. "The timing couldn't be better," said Chad Beynon, an analyst with Macquarie Capital.
In the top 25 U.S. markets, hotel occupancy rose to 76.3 percent in July, from 75.2 percent a year earlier, according to Smith Travel Research, and revenue per available room rose 6.2 percent. August data have not been published yet.
The demand for rooms has been driven primarily by a rebound in corporate travel since the end of the recession, as flush companies keep their rainmakers on the road and send employees to conventions and other business gatherings. Once occupancies top 70 percent, room rates and profit margins really begin to expand, Beynon said.
At Hilton, net income rose 39 percent last year to $352 million, on sales of $9.4 billion, according to the IPO filing. The chain's occupancy rate rose from 68 percent in 2010 to 72 percent in the first half of this year, while its average room rate gained more than $10 to $136.43 during that period.
Those kinds of financial improvements have been seen across the industry as financing became much more restrictive, curbing room growth. The current boom cycle is likely to play out for several more years. "We're just not seeing the shovels in the ground or the cranes out front or the financing come through," Beynon said. "That's why we're expecting low supply through 2016."
In 2014, hotel occupancy is expected to increase 1.3 percent to 63.1 percent, with average rates rising nearly 5 percent to $115.73, according to STR. Washington, D.C., ground zero of the federal government's budget sequestration, is the only market likely to see flat to negative revenue growth. "The outlook for the U.S. industry is very positive for the next 18 months," STR President Amanda Hite said in a news release accompanying the forecast.
That's one reason Hilton's Blackstone owners hope investors will also check into its stock and not just its hotels.
Before it's here, it's on the Bloomberg Terminal.
LEARN MORE