France Has a Plan to Restore Its Industrial Glory. It Won't Work
By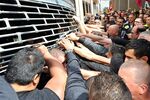 President François Hollande recalled France's proud history of industrial innovation, from high-speed trains to nuclear power, as he announced a plan this week to create jobs by investing billions in new technologies. "We can all think of examples from the past," he said at a Sept. 12 conference at the Élysée Palace.
The industrial policies that fueled Gallic competitiveness in years past, though, won't help the problem France has now. Since the 1990s, European neighbors such as Germany—and more recently, Spain and other crisis-hit countries—have enacted reforms that make them far more business-friendly than France. French labor costs are now the highest of any major euro zone economy, and taxes have risen €70 billion ($93.1 billion) over the past three years, a period when the country's economy barely grew at all. More new taxes are on the way. France "has some catching up to do," says Jean-Dominique Senard, chief of executive of tiremaker Michelin.
Companies such as Michelin are doing more than complaining. In June, the tiremaker announced it was closing a 52-year-old factory in the Loire Valley where it makes tires for Paris Métro trains. The Métro production line is being moved to Spain, where the government of Prime Minister Mariano Rajoy last year overhauled labor laws to lower employers' costs and give them greater flexibility. Hollande's government this year enacted more-modest labor reforms, but that hasn't stemmed job losses that have pushed unemployment to 11 percent, a 14-year high. Automaker Peugeot has been hiring in Spain while shuttering factories at home in France.
Hollande's latest plan is to create a new generation of industrial champions producing robotics, 3D software, and other high-tech gear. Some €3.7 billion is to be pumped into these efforts, through state-controlled investment vehicles. "It's not about nostalgia or going back to the 1960s," Hollande said. "It's about a state that can accompany and stimulate" business.
France has tried this strategy already—and it flopped. In 2010, then-President Nicolas Sarkozy announced a massive state-directed investment in industry, including billions for R&D and new technologies. More than €5 billion has already been invested, yet the job market and the performance of France Inc. keep getting worse. Corporate profit margins last year were the lowest since 1985.
As recently as the mid-2000s, when Germany's labor costs were higher than France's, and Spain's were rising an average 4 percent annually, the kind of sweeteners Hollande is offering might have been enough to lure investment and jobs to France.
No more. In a Bloomberg survey of investors released on Sept. 12, only 13 percent said Hollande's policies would improve France's investment climate. The figure for German Chancellor Angela Merkel was 65 percent.
Before it's here, it's on the Bloomberg Terminal.
LEARN MORE