pursuits
Can Crocs Step Into the High-Fashion Market?
By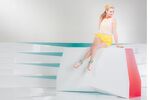 Soon you'll be able to wear Crocs to a fancy dinner—like Mario Batali, only a touch more chic.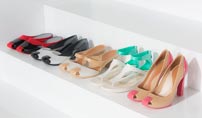 Early next year, the maker of the big rubber clogs will release a small selection of high-fashion models in a range of colors priced from $80 to $120. Crafted by Crocs designer Stefano Furiani, the line comprises high-heeled pumps, sleek flats, and ankle-strap thongs. Furiani drew inspiration from contemporary art and architecture, according to the company. In other words, these Crocs are not for gardening.
"We really wanted to reach out to new horizons with our business," says Sandra Aris, Crocs' senior director of global design.
Trying to push its footprint beyond its famous clogs is nothing new for Crocs. For years the company has been expanding its product line far and wide; it now cranks out more than 300 different models, including flip-flops, sneakers, loafers, golf shoes, and even big, fuzzy boots. The problem, however, is all of those offerings are, well, kind of "Croc-ish"—generally bottom-heavy and boldly colored.
Here's how Chief Financial Officer Jeff Lasher described the strategy at a recent conference: "We continue to try to focus on fun, color, and comfortable shoes."
With the new models, Crocs is trying to outrun its brand entirely. The tag line will simply read: "Designed by Crocs in Italy" (as in, far from the company's Colorado headquarters). "There's new packaging, new boxes, whole new branding. It's kind of something from the ground up," Aris says.
And the new shoes won't be found anywhere near plastic clogs. Crocs will distribute the line through Zappos.com and 30 fashion-focused brick-and-mortar stores. When asked if Crocs was worried about the new models being sullied by the company's other wares, Aris said: "It's not a concern—it's more of a positioning decision."
Crocs is being savvy here. Fashion—haute footwear in particular—is aspirational. The brand matters as much or more as the product itself, and the Crocs name has no traction on the world's runways. Still, it's a funny fit business-wise. Imagine Nike selling shoes without the swoosh.
The lack of a brand name will put the fashion-forward Crocs at a disadvantage to more-recognized models, according to Aaron Smith, a shoe designer and owner of Harleston, a high-end shoe store in Charleston, S.C.
"Americans, in particular, really, really buy brands," Smith says. "You just got to ask yourself, are people going to spend $120 on fancy Crocs? If they get the girls from Duck Dynasty to endorse them, maybe."
The new line also comes at a bumpy time for Crocs. This week the company lowered its financial forecast for the year, estimating sales will be as much as $25 million lower than it previously thought. And its profit margin has slimmed substantially, in part because Crocs has beefed up marketing to sell more shoes. Meanwhile, its shares are wallowing about 60 percent below their 2011 peak.
Business isn't entirely bad, however. Crocs booked more revenue in the recent quarter than it ever has. And in the first half of the year, customers around the world spent almost $300 million on the clunky clogs, which are known as "Crocs" in all languages. Whether or not the chichi new models sell, there's nothing ugly about that.
Before it's here, it's on the Bloomberg Terminal.
LEARN MORE