Book Lovers Will Adore These Neat New Maps
Two ways to chart the connection between reading and place.
By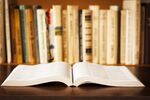 About a decade ago, I read a short essay that has stuck with me by Anne Fadiman, in which she neatly named an idea any book lover will probably recognize: You-Are-There-Reading, "the practice of reading books in the places they describe."
Fadiman had read John Muir in the High Sierras, read about early expeditions of the Colorado River while on the Colorado River, read Eloise with her daughter inside the Plaza Hotel in New York City. Her description of the particular joy of You-Are-There-Reading always comes to mind when I think about the connection between cities and books – cities as backdrops and characters, books as pathways to travel to cities you've never been – or when I stumble across a project like Infinite Boston, a virtual tour (and map!) of the real-life places in fictional Infinite Jest.
In my mind, I've been collecting a You-Are-There reading list of books (fiction and non) that in some way tap into the spirit of specific cities: Devil in the White City in Chicago, A Man in Full in Atlanta, Midnight in the Garden of Good and Evil in Savannah, Katharine Graham's Personal History in Washington, D.C. It's a wildly incomplete accounting of books I think would be great to read in those places (OK, you'd need a really long trip to Atlanta), or books outsiders could crack to understand these cities better.
But there are a lot of books I haven't read, and a lot of places I've never been (please share recommendations!). And so I was excited to come across a couple of mapping projects, linked via Google Maps Mania, that are doing a much more comprehensive job than I am of plotting the literal bookmarks (literature landmarks?) between reading and place.
The Book Globe is mapping Booker Prize winners and nominees (by setting, not author's location):

And the LitMap Project is broader in scope and crowd-sourced:

If you also live in the nerd niche between maps, cities, and books, you'll get a kick out of these projects, too. And if you spot an awesome book about or set in your city that's not on either of these maps, please share below.
Top image: sergign/Shutterstock.com