pursuits
At Seattle's Stadium, Opposing Football Fans Could Be Cops
By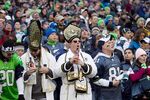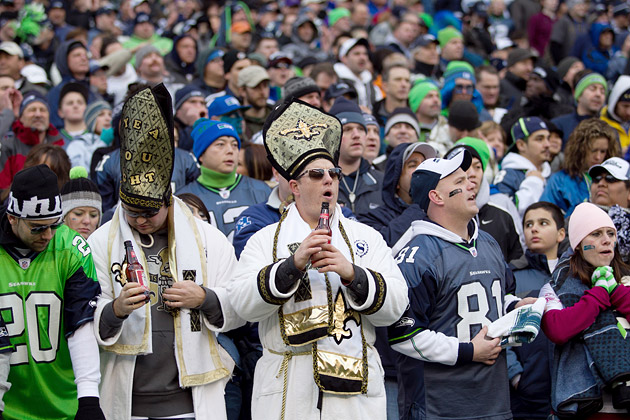 The Seattle Seahawks don't think their fans are very hospitable hosts. For its game on Sunday, the team will have undercover police officers patrolling the stands dressed as supporters of the visiting San Francisco 49ers, with the mission of capturing some of CenturyLink Field's more insidious bruisers. The theory goes, of course, that an out-of-town spectator in the wrong attire makes a prime target for any drunk revelers.
"We have great fans," Seahawks President Peter McLoughlin explained this week. "Our goal is to ensure a safe environment for all in attendance, including the visiting team fans."
The creative policing policy arrives at a time when the NFL is trying harder to make the stadium experience more family friendly. As of last year, football fans who get ejected must complete a four-hour online course about proper behavior at a cost of $75 if they ever want to be readmitted to the stadium. In 2011, if the civility course had been mandated, about 7,000 fans would have been required to take it to regain stadium privileges. To limit the surreptitious ferrying of hard booze and more dangerous items, the league instituted a policy this year that limits the size and type of handbags fans can carry. Women are forbidden from gaining entrance to a game with anything larger than a clutch, which the NFL defines as a bag "approximately the size of a hand, with or without a handle or strap." Yes, professional football has come out with its own definition of a small purse.
The news of the fake fans in Seattle has met with a mixed response. Some fans have embraced the news:
Others think it's a waste of time:
Whatever your opinion of the policy—and the advance announcement of the policy—we doubt that the events portrayed in this animated Taiwanese interpretation will come to pass. In the video, a Seahawks fan is so overcome with grief by the G-rated atmosphere of the stadium—"In the end, aren't the crazy fans and foul language part of the reason that people go to games?," the narrator asks—he puts a gun to his own head. There's just no way to smuggle a weapon that size inside a tiny clutch.
Before it's here, it's on the Bloomberg Terminal.
LEARN MORE