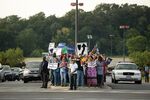 In July, Washington D.C.'s city council approved a living-wage bill that would increase the minimum wage from $8.25 to $12.50 for employees of large retailers. Right after the vote, Walmart, the largest retailer of them all, said it would cancel plans to build three stores in D.C. and review three others already under construction. On September 12, Mayor Vincent Gray backed down and vetoed the bill.
"The bill is a job-killer," he wrote to the council. "Nearly every large retailer now considering opening a store in the District has indicated that they will not come here or expand here if this bill becomes law." Among the retailers, he said, were Target, HDHome Depot, Wegmans, LOWLowe's, Walgreens, Harris Teeter, AutoZone and Macy's. This is a familiar argument and one that seems to ignore the possibility that paying workers more could be good for companies: as consumers, they'd be able to spend more when they shop.
Walmart says it will move forward with its stores in D.C. now. "Mayor Gray has chosen jobs, economic development and common sense over special interests—and that's good news for D.C. residents," Steven Restivo, a company spokesperson, wrote in an email.
For those workers and activists hoping that D.C. would set an example for the nation, Gray's decision was obviously disappointing. A statement from Respect D.C., a coalition of workers and community organizations, said: "Mayor Vincent Gray had the opportunity to stand up for the residents of this city, but instead he allowed large, out-of-town companies, like Walmart, to threaten him and ultimately dictate the policies of our city." There are already calls for the city council to over-ride the mayor's veto.
Before it's here, it's on the Bloomberg Terminal.
LEARN MORE