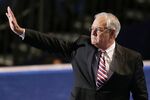 Jan. 3, 2013: Barney Frank retires from Congress
Barney Frank, who co-wrote the Dodd-Frank Wall Street Reform and Consumer Protection Act of 2010, the Moby-Dick of financial regulation, retired from Congress this year on Jan. 3. One of his first acts as a private citizen, on Jan. 5, was to kick off a weekend-long public reading of the real Moby-Dick at the New Bedford Whaling Museum in Massachusetts, starting from "Call me Ishmael." The man who tried to harpoon the leviathan of the banking system undoubtedly identified with Captain Ahab.
Just as Herman Melville will always be linked to his best-known novel, Frank's legacy will forever be tied to the success or failure of his 848-page reform bill. It was the most sweeping change in financial regulation since the Great Depression.
Not that Frank was otherwise invisible. Far from it. "America's only left-handed, gay, Jewish congressman," as one book title pegged him, Frank grew up in Bayonne, N.J., the son of a truck stop operator. He once told the New Yorker that his father had ties to the Mafia. He graduated from Harvard and Harvard Law; went into Bay State politics; then spent 32 years in Congress, rising to chairman of the powerful House Financial Services Committee. His favorite causes were rental housing, civil rights, and taunting Republicans, whose concern for children, he once said, "begins at conception and ends at birth."
The Lehman crisis made Frank's career. Before the meltdown, he had just begun to step back from his longtime protection of Fannie Mae and Freddie Mac, the mortgage-finance giants, which contributed to his campaigns and helped finance the rental housing he favored. After Lehman he became a key player, first in Congress's efforts to dictate terms of the bailout and then in steering what became Dodd-Frank.
The most problematic part of the sprawling Dodd-Frank act, ironically, is the section with the strongest bipartisan support: the no-bailout clause. It prohibits the Federal Reserve from aiding any financial institution except through programs that are available on the same terms to all. If a bank can't make it, "shareholders are wiped out, the CEO is fired, and the institution no longer exists," Frank frequently bragged. The no-bailout clause could exacerbate future crises by preventing the Fed from improvising emergency aid to a salvageable bank that falls under suspicion. Creditors could bolt sooner now, fearing there's no backstop.
Things don't have to end badly. Fed heroics won't be necessary if the rest of Dodd-Frank succeeds in making banks safer. Or maybe the Fed will write a loophole into its regulations that keeps its emergency options open. But Frank's reputation as a reformer won't be secure until the U.S. gets safely past the next banking blowup and the one after that.
Before it's here, it's on the Bloomberg Terminal.
LEARN MORE