pursuits
Miley Cyrus and Vevo Take a Wrecking Ball to MTV
Helped by record labels and Google, the website rules in music videos
By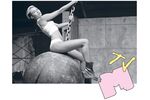 On Sept. 9, Miley Cyrus rode a wrecking ball into the record books. The new Terry Richardson-directed music video for her hit song Wrecking Ball—in which she swings around naked on said ball while crooning about the vicissitudes of love and occasionally licking a sledgehammer—quickly became the most popular music video ever on Vevo. Attracting 19.3 million views in the first 24 hours, it's since gone on to pile up more than 118 million views. And while Cyrus was gleefully swinging into the hearts of fans, Vevo, a private company based in New York, was reveling in something else: the continued demolition of its competitors.
Vevo dominates the world of online music videos to a degree that's surprising considering the pedigrees and head starts of its rivals. In August the company racked up 49.4 million unique visitors and 609 million video views, according to researcher ComScore, crushing its nearest challengers, MTV Music Group (35.3 million unique visitors; 261 million video views), Yahoo! Music (3.8 million unique visitors; 7.5 million video views), and AOL (3.1 million unique visitors; 8.1 million video views).
How did a relative newcomer get so far ahead? Vevo, founded in 2009, was launched with the backing of Universal Music Group and Sony Music Entertainment. That means it gets first dibs on the music videos of two of the three largest record labels. (Vevo also had online music video rights for the fourth-largest record company, EMI Music, until the giant was broken up last year.)
Those relationships give the company outsize clout, because any website that wants to legally distribute music videos from Universal and Sony's hefty roster of artists (Justin Bieber, Bob Dylan, Lady Gaga, Pearl Jam, Kanye West, U2, Eminem, Justin Timberlake, Metallica, Beyoncé …) must first strike a deal with Vevo. Since the company's debut, Vevo executives have signed myriad agreements, distributing its music videos far and wide across the Internet in exchange for a slice of the ad revenue the videos generate.

So far, Vevo's primary distribution point is its thriving network of channels on Google's YouTube, which to date has accrued more than 130 billion views. Earlier this summer, Vevo and Google extended their mutually beneficial relationship. In July, Google invested $45 million for a 7 percent stake in the company—keeping Vevo comfortably ensconced in the all-important YouTube ecosystem for years to come.
It's an increasingly lucrative position to occupy, thanks to the ongoing boom in digital video advertising. According to data from the Interactive Advertising Bureau, spending on digital video has soared, from $324 million in 2007 to $2.3 billion in 2012. That's just the beginning, with researcher EMarketer forecasting that video ad revenue in the U.S. will grow 41.4 percent this year and another 40 percent in 2014, making it the fastest-growing digital ad format.
Having established its popularity among music fans on YouTube, Vevo is aiming to conquer the next big thing in music videos: mobile distribution. "It's moving [to mobile] so fast that most people aren't aware," Vevo Chief Executive Officer Rio Caraeff told Bloomberg TV in June. "Last year in the U.S., 51 percent of our streaming happened off of the PC—on mobile, tablet, and television. That's really what's driving our growth."
Before it's here, it's on the Bloomberg Terminal.
LEARN MORE