Michael Dell Gets His Chance to Save Dell
by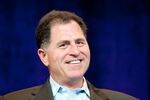 Michael Dell has officially won his bid to take over the company bearing his name. Shareholders voted Thursday to approve his $24.9 billion leveraged buyout of Dell with Silver Lake Management, ending an awkward seven-month fight over the future of the venerable PC maker. The battle began in February when Dell's founder announced he wanted to take the company private to retool it away from the short-term expectations of the stock market. The final price was $13.75 a share, plus a special 13¢ dividend for shareholders.
Thursday's vote was a foregone conclusion after Carl Icahn, who owns 8.9 percent of the company, dropped his fight against the deal earlier this week. Still, Icahn complained that the terms stiffed shareholders and kept them from benefiting from the company's potential. He also took a final shot at the decision-making process and its parliamentary intrigue.
"We jokingly ask, 'What's the difference between Dell and a dictatorship?' The answer: Most functioning dictatorships only need to postpone the vote once to win," Icahn wrote in an open letter to the company's shareholders on Monday. He will presumably go back to talking up the value of Apple stock.
Now the question for Michael Dell is whether he can move his namesake company into the post-PC era. According to market researcher IDC, Dell PC shipments fell 4.2 percent in the second quarter, compared with the year before—a small enough drop to increase its market share to 12.2 percent. In the fourth quarter of this year, IDC projects that tablet sales will surpass PC sales, and Dell has had little success in the mobile market.
Dell says his company will make a push to capture some of the growth on smartphones and tablets, but its best chance for success is probably in data centers, servers, and networking. As a whole, enterprise computing saw an 8 percent increase in revenue, to $3.3 billion, in the most recent quarter. That's still only about one-third of what Dell brings in for its end-user business, though, indicating that the company likely has a major transformation with significant short-term pain ahead of it.
By winning the fight to take the company private, Dell gets to be the one who tries to take his company through that transition. It's a dubious prize.
Before it's here, it's on the Bloomberg Terminal.
LEARN MORE