'MBAs Across America' Return to Harvard
Francesca Di Meglio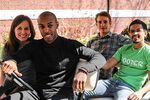 You don't usually think of Harvard Business School students as free-spirited vagabonds. Yet that's exactly how you might describe Michael Baker, Hicham Mhammedi Alaoui, Casey Gerald, and Amaris Singer, second-year MBAs who spent their summer traveling across the U.S. and helping entrepreneurs.
The idea, says Gerald, was to get out of the cubicle and go places where students from Harvard don't usually go to help entrepreneurs outside of New York and Silicon Valley. So they piled into two cars and hit the road.
Dubbed MBAs Across America, the team visited eight cities, including Detroit, Boulder, Colo., Las Vegas, and New Orleans, spending a week in each. At each stop, they met and aided someone with a small startup.
Now they plan to help students from other business schools take a similar trip next summer. Baker is working on a recruiting video. "We want to get as many MBAs to do this next year as possible," he says.
Recently, all four co-founders of the group spoke with Bloomberg Businessweek's Francesca Di Meglio. Here are edited excerpts of their conversation:
What was the highlight of the trip?
Alaoui: Sebastian Jackson, owner of the Social Club Grooming Co. in Detroit, is donating the hair he cuts to accelerate compost that would be used when planting trees in Detroit. Making a city greener has been proven to bring down crime rates. He is trying to revitalize his city. We helped him by making a few simple-to-implement recommendations. For example, we helped him create a customer database to turn paying customers into evangelists for the shop. We analyzed the pros and cons of moving from a booth rental system, in which stylists rented booths from him, to a commission-based business. We also helped him tell the story of what he is doing for Detroit in the shop, so people would know about it.
What lesson did you take away from this summer?
Baker: There are problems that need solutions, and entrepreneurs are tackling them. Now, it would be harder for me to take a job where I check my soul at the door. I have to align what I'm good at with what matters.
Singer: Going down the road less traveled is the one to go down.
Gerald: Every Monday morning I would wake up and go to places with which I was unfamiliar, and I would find something familiar. People of our generation are getting involved and solving the biggest challenges of our time. It gives me hope that we will revitalize our country, and it helped me see we're all in this together.
Any regrets about not doing a traditional internship?
Alaoui: The summer between your first and second year of business school is a unique slice of time, arguably your last summer as a student. Spending those precious 12 weeks at a large corporation is somewhat a waste of time, when you could be connecting with entrepreneurs and their companies, which are what made the U.S. the great country it is today.
Join the discussion on the Bloomberg Businessweek Business School Forum, visit us on Facebook, and follow @BWbschools on Twitter.
Before it's here, it's on the Bloomberg Terminal.
LEARN MORE