business
Maybe Showrooming Isn't Killing Retailers After All
By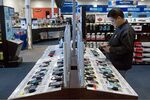 Among brick-and-mortar retailers, showrooming has become a dirtier word than shoplifting. Thievery, at least, is illegal—Amazon.com has every right to lure customers away even after they've visited the mall to browse merchandise.
Showrooming is when shoppers scope out products at a store only to make a purchase—often at a lower price—through a website. Despite the anxieties of retail executives, however, the phenomenon might not be as rife as it's made out to be. Only about 6 percent of people using a smartphone while in a store at any given time are planning to take their commerce to the Internet, according to a study released today by Columbia Business School and Aimia, a company that builds retail loyalty programs . And only about half of them are using their phones to price-check. Most smartphone-equipped shoppers are simply looking for reviews or online coupons, often from the website of the store they're in.
"Basically, it shows we should dial back the panic a little bit," says Columbia professor David Rogers, one of the report's authors. "Don't assume everybody is in that 'exploiter' category."
Another encouraging finding for old-school retailers: Only about 1 in 4 mobile-savvy shoppers used deal-hunting apps such as those offered by RedLaser or EBay. The study, which surveyed 3,000 shoppers in the U.S., the U.K., and Canada, also suggests that strategies to combat showrooming are paying off. Half of the respondents said loyalty programs that offer perks and discounts make them more likely to buy in stores—the kinds with shelves and hangers and registers full of cash. Price-matching policies and free-shipping offers also help. While lower prices are still the biggest draw online, almost half of those who acknowledged they had engaged in showrooming said they were lured by the prospect of goods arriving on their doorstep free of charge.
The savviest retailers, however, are going a step further and crafting mobile features aimed specifically at in-store shoppers. Most notably, Wal-Mart Stores has a "geo-fencing" mobile app that recognizes when a user is physically located nearby. Thanks to the app's "store mode," which can serve up hyperlocal deals, the retail giant is now getting 12 percent of its online revenue from customers who are actually in one of its stores.
Kroger has a similar initiative that lets would-be grocery shoppers find coupons, refill prescriptions, and build shopping lists on their phones. The North Face, meanwhile, has taken this strategy to another level. In addition to adding geo-fences to its stores, it's also put them around ski resorts and other outdoor playgrounds.
Matthew Quint, a co-author of the Columbia study and director of the school's Center on Global Brand Leadership, said the smartphone is in many ways a tool for brick-and-mortar retailers fighting e-commerce. "Just anecdotally, when I'm in a store, I no longer think, 'I'll research this when I get home,'" he says. "My decision-making is solidified because the Internet is in my palm."
Before it's here, it's on the Bloomberg Terminal.
LEARN MORE