How New Entrants Will Swing the Dow
by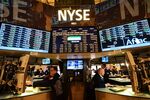 The venerable Dow Jones Industrial Average just announced its biggest rejiggering in some time: booting components Alcoa, Bank of America, and Hewlett-Packard to induct Goldman Sachs, Visa, and Nike into its elite group of 30. Prepare yourselves for a very different blue-chip index.
Yes, a mere trickle of institutional money tracks the Dow, compared with the far more widely followed Standard & Poor's 500 Index. But the Dow the most quoted and iconic equity index on the globe. Never mind the fact that it is weighted by the otherwise-arbitrary share price of its components, and not their market value. Accordingly, $185-a-share IBM (market value: about $209 billion) presently represents an outsize 9.43 percent of the index, compared with less than 4 percent for $241 billion Wal-Mart, whose stock trades at $74. Chevron has a fraction of ExxonMobil's financials and global position; but by dint of Chevron's higher share price it is currently the Dow's second biggest component, compared with Exxon at #7. Rejectees Alcoa, Bank of America, and Hewlett-Packard are still significant multinationals. But their stock prices had fallen so far that their combined weighting in the blue-chip index slumped to an irrelevant 2 percent and change, according to Bespoke Investment Group.
"They're trying to make it so that more of the components of the index actually move the index," says Bespoke's Paul Hickey. "It's more balanced now."
While the listings being removed from the index had an average price of $15, the newbies average $134.50 a share. The three inductees will now throw around a cumulative weight in the index of 17.4 percent, with Visa and Goldman Sachs sporting the Dow's second and third largest weightings. Plugging in these much higher-priced members will then dilute the clout of all the remaining components. Nike, for its part, debuts on the Dow with a 2.82 percent weighting, which will exceeed that of twelve incumbent members, including Disney, Intel, Merck and even too-big-to-fail bank JP Morgan Chase.
Paring IBM's lopsided influence was a chief motivation for picking high-priced Goldman and Visa, according to David Blitzer, chairman of the S&P Dow Jones index committee, which announced the moves on Tuesday. Had they been in the Dow all year, it would now be up 17.3 percent instead of 15.9 percent, data based on Tuesday's prices compiled by Bloomberg show.
All of which still does nothing to include the very influential, but too-high-priced likes of Apple and Google.  "Clearly, Google and Apple are huge companies, very big and very well known, and there's no question that they're very important to the U.S. and the global economy," Blitzer said in a conference call with reporters. "The prices of their stocks are so high that putting Google in would completely distort the index and it wouldn't work."
And so Visa will have to suffice to fill the "tech" void left by Hewlett-Packard's ouster. It is what it is.
"The Dow," says Hickey," is no doubt strangely calculated. But for all the criticism, it's what most Americans think of when they think of the stock market. If you want to be in it, you have to play by its rules."
Before it's here, it's on the Bloomberg Terminal.
LEARN MORE