pursuits
Former Lehman CFO Erin Callan's Never Going Back
"Like a drug addiction [with] positive reinforcement"
By
March 9, 2013: Callan's "Is There Life After Work?" is published in the New York Times


When Erin Callan, the former chief financial officer of Lehman Brothers, moved out of her lavish home in East Hampton, N.Y., in May, she and her husband parked a dumpster out front to collect the overflow of a dramatic downsizing. Callan was five years into a transition from one of the most visible and maligned1 executives on Wall Street to an unemployed person with regular, human-size living spaces, albeit ones with ocean views.
"I had a great career," she says, sitting on the terrace of her cottage on Shelter Island, N.Y., where she and her husband, Anthony Montella, now live part of the year, when they aren't in Sanibel, Fla. In a sundress and wind-swept hair, she's worlds away from her high-gloss Lehman persona. "It was exhilarating, really. I got to travel the world. I got to meet some incredibly neat people from all walks of life. And that's something I've really tried to learn how to hold on to, and not let what was a very troubled last six months overwhelm it."
Callan was named CFO of Lehman Brothers at the end of 2007 and was just learning her way around when she suddenly found herself defending the company's financial position against skeptics and short sellers. In May 2008, David Einhorn of Greenlight Capital accused her of misleading shareholders and made a show of shorting Lehman's stock. "I laugh now, but I remember waking up one morning and they were having a debate on CNBC about who was more likable, David Einhorn or me," she says. "It was just surreal."
Once seen as a future chief executive officer, Callan was unprepared to handle the intense scrutiny Lehman faced in the weeks that followed. She left the company in July 2008 as its situation became increasingly dire, joining Credit Suisse briefly before abandoning the business altogether in 2009. "It may seem like a really long time, five years," Callan reflects. "It took me that long to really come to terms with what that life was and what I want life to be going forward. And to not look at that [old life] negatively, to really appreciate what was great about it."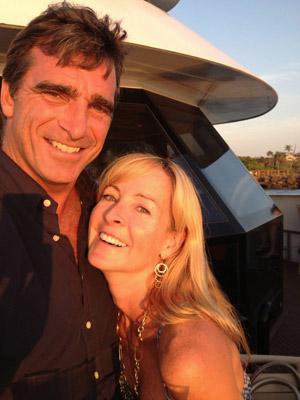 She and Montella, a retired New York City firefighter and former high school classmate she started seeing in 2007, moved to Callan's East Hampton house full time in 2009. She was then left to confront her new life. There was financial uncertainty: Callan says she left Lehman with close to nothing—she hadn't negotiated a severance package and forfeited all her stock and options. Callan continues to contend with civil lawsuits over Lehman and her role there. Since Lehman's liability insurance ran out a year ago, she's paying her own legal bills. She and Montella tried to reduce expenses by moving from a lavish 6,000-square-foot home in the Hamptons to a 1,600-square-foot house in Florida. And Callan, now 47, was (and still is) undergoing in-vitro fertilization, hoping to become pregnant—something she postponed thinking about during the rocket ascent of her career.
Callan says she had an epiphany earlier this year, when the Sheryl Sandberg Lean In juggernaut arrived, urging women not to let having children derail their careers. "I was just sitting in bed one morning, and I said to Anthony, 'You know what? I kind of feel like I need to say something,' " she says. She tapped out an 800-word editorial, which she e-mailed to a generic submission address at the New York Times. The resulting piece, "Is There Life After Work?," was published on March 9. What she wrote—and still endeavors to explain—is that becoming a workaholic was never part of her plan when she left her job as a tax lawyer at Simpson Thacher & Bartlett and joined Lehman in 1995. But the firm's underdog mentality and "we're all in this together" culture sucked her in. She slowly put work ahead of everything else in her life, until there was no everything else left.
She compares her unbalanced life of constant travel, working weekends, and clinging to her BlackBerry at all hours to a "drug addiction—except you're getting tremendous positive reinforcement for what probably is really extremist behavior." By 2007 she'd gotten divorced, and doubts about the track she was on were creeping in. But at the same time, "They had asked me to become CFO, and once I accepted, it did hit me that ultimately they may have been seeing me as someone who could have been the CEO one day," she says. "And I started to think, where's the exit strategy? How can I get out?"
She met Montella shortly before taking the CFO job, and suddenly had a reason to come home at a reasonable hour each night, and the possibility of having kids began to seem real. But by then, she was about to enter the darkest period of her life.
Montella, who spent his career running into burning buildings, says he couldn't help thinking of a brand-new firefighter fresh out of training, as he watched Callan struggle through the first half of 2008. Typically, a new firefighter goes through his first couple of fires with a more experienced firefighter holding his shirt the whole time so that he doesn't get lost in the flames. "I always said to Erin, when she became the CFO, she was the smartest, had the most energy, and was the most capable," Montella says, "but she still had never been in the fire before and she needed Joe [Gregory] and Dick [Fuld] and all of the people who had been there for years before to walk her through the fire." He adds: "I felt it was unfair."
Instead, she seemed to be completely on her own as the financial crisis worsened and Bear Stearns collapsed and was sold to JPMorgan Chase. Callan was vilified, held up as the personification of Lehman's recklessness even though she'd spent the bulk of her time at the firm developing its hedge fund business. "I was presented to the public in a very solitary fashion without other management team members with me or around me, and I think there was an assumption that I was articulating personal views of some sort," Callan says. "When you're tasked with presenting a view in a public setting, you are asked to present the view of management, the view of the organization." She adds: "It became too much about me."
Asked whether she'd agree to become the CFO of Lehman Brothers if she had it to do over, Callan says, "It's not a question I can really answer, because I don't really look at things that way." She goes on: "It's not my personality to feel like a victim, ever." After thinking about it, she says that she wouldn't change anything, because her life is so good now. Ultimately, she hopes others can learn from her experience by remembering that doing nothing but leaning in to their careers could lead them where they don't necessarily want to go.
Callan pauses and looks out across the bay. "It may seem like a strange thing to say, but sometimes I'll look around and I'll see a huge yacht or we'll go by a beautiful house, and the first thing that comes into my head is not, like, 'Oh, wow, wouldn't that be great?' " she says. "The first thing that comes into my head is, 'I wonder what they're giving up to be able to have that?'"
Before it's here, it's on the Bloomberg Terminal.
LEARN MORE