Editor's Letter: Five Years From the Brink
by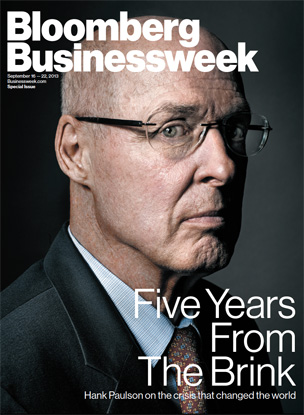 Back when it began, when television control rooms were scrambling for something to slap on the bottom of the screen and headline writers were crunching words to fit, "financial crisis" became the catchall term for the biggest economic story of the past half-century. You'd expect a better name to have emerged by now. It took remarkable ingenuity to unleash the forces that paralyzed markets, overturned governments, and ruined countless lives, not to mention causing an historic decline in global gross domestic product. For creativity to fail in the summing up is just one more insult.
Of course, it's hard to name what you can't comprehend. Five years after Lehman Brothers filed the biggest bankruptcy in U.S. history, there's still confusion about exactly what brought the world economy to the brink of collapse. Which is not to say there's confusion about whom to blame. Every constituency has a poison dart aimed at its favorite target: Bankers were greedy; homeowners were clueless; elected officials pandered to both and let $700 trillion in derivatives ferment unregulated in the shadows. If all these reasons fail to resolve into an explanation, at least they unite the aggrieved in certainty: It was someone else who spoiled everything.
For all the risk-taking that led to the crisis, introspection, the riskiest enterprise of all, has been scarce in its aftermath. We hope this special issue fills at least part of the void. Starting with the day of the Lehman collapse, our writers, editors, photo editors, designers, and data journalists examine the crisis as it affected the lives of the people who created it, tried to stave it off, protested it, profited from it, and lost everything to it. Some, like then-Treasury Secretary Hank Paulson, tell us in their own words what it was like to be there and look back humbly at what they could have done better. Others are defined by their frustration or have retreated into exile. For all of our subjects, the crisis was more than financial. It was personal.
This issue also marks Bloomberg Businessweek's first venture in a new medium. On Sept. 16 our debut feature-length documentary, Hank: Five Years From the Brink, begins streaming exclusively on Netflix. The film was directed by Academy Award-nominated filmmaker Joe Berlinger and presents Paulson speaking plainly and emotionally about managing the crisis. It's a fantastic film that will deepen your understanding of what the last five years have been about—and how we might avoid repeating them.
Before it's here, it's on the Bloomberg Terminal.
LEARN MORE