China's Bottom Line: Slower GDP Growth, but With Steady Employment
By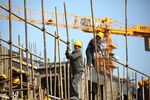 "Though lower than the near double-digit rates seen in previous years, a growth in the neighborhood of 7.5 percent is still considered high for any major economy in the world," Premier Li Keqiang said in a Sept. 11 speech at the World Economic Forum meeting in Dalian. "As the economy enters a phase of transformation, the slowdown on prospective growth and moderation of the Chinese economy from a high speed to a medium-to-high speed are only natural," Li told more than a thousand entrepreneurs, businessmen, policymakers, and academics who gathered to confabulate in China's northeastern coastal city.
By now it's clear that Beijing is ready to accept slower growth as it rebalances its economy away from an investment-driven, export-dependent economy, to a more services-oriented, consumption-powered one. Growth has slowed from 7.9 percent in the last three months of 2012 to 7.5 percent in the second quarter of this year, but with little consternation expressed by China's top leaders. "In the face of economic downturn, a short-term stimulus policy could be one way to drive up growth. But after weighing the pros and cons, we concluded that such an option would not help address the underlying problems," Li said.
"We would rather bring down the growth rate to a certain extent in order to solve the fundamental problems hindering our economic development in the long run. In this sense, such a growth rate is the result of sound adjustment," President Xi Jinping said in a written interview with Russian and Central Asian media on Sept. 4.
But don't misunderstand China's leadership. There is a bottom line: Growth can moderate but only if employment remains strong. Beijing is well aware of the potential for worker-generated social instability, particularly amongst its 300 million or so migrant workers. And employment faces huge new challenges, as Beijing pushes urbanization and tries to convert hundreds of millions more farmers into productive and employed city dwellers, a top goal of the new government. Even as the economy cools, it must generate "growth with sufficient employment and growing household income," Li also stated in his Sept. 11 address. "For the top government, the top priority is to ensure sufficient employment," Li said a day earlier, also while speaking in Dalian, citing the need for a faster-growing service sector as well as occupational training to ensure jobs.
Overall, employment seems to holding up. In the first half of this year, China generated 7.25 million new jobs, 310,000 more than in the same period last year, China's Ministry of Labor and Social Security reported in July. The goal: a total of 9 million jobs created this year, with the services industry in particular providing employment for workers. "China's job market showed some resilience in the first half despite economic difficulties," reported the official Xinhua News Agency on July 25. Still, officials cautioned that "employment-related challenges remains an arduous task," according to Xinhua.
On closer examination, the labor market shows some worrying signs. In particular, employment is weakening in China's Pearl River Delta, where traditionally many of China's migrant workers have found jobs in export factories. According to a survey measuring employment prospects for the last three months of this year, released Sept. 10 by ManpowerGroup (MAN), China's south is showing its weakest employment outlook since the last quarter of 2009. That's in part because of continuing rising labor costs, but also due to new regulations effective July 1 that restrict employers from using cheaper temporary workers, according to ManpowerGroup President Darryl Green.
"In second-tier cities, and especially in the south and central that were hot before—that has really come off. Hiring intentions are down, and the jobs are not there," Green says. "A lot of companies were not following the law—when they start, that will increase the cost of having workers there."
Before it's here, it's on the Bloomberg Terminal.
LEARN MORE