B-School Application Growth Stalls
Louis Lavelle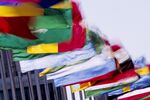 Applications to graduate business programs flatlined last year, according to a new report.
The Council of Graduate Schools today reported that the number of applications to graduate business programs in the U.S. grew just 0.7 percent in 2012, down from 4.3 percent in 2011. The finding marks a significant slowdown in application growth, which averaged 6.8 percent from 2007 to 2012.
"Business schools have always held their own in terms of attracting applicants," says Jeff Allum, the council's director of research and policy analysis. "This is a significantly lower number than we've seen in the past."
The slowdown in application growth at top schools last year was already well known. But the new study, which covers 675 colleges and universities, about a third of the degree-granting institutions in the U.S., shows how widespread the trend was.
Some of the reasons cited for the drop-off include slower growth in international applications, which the council attributes to better graduate programs in countries outside the U.S., burdensome visa restrictions, and an increasing desire among international students to study closer to home.
But domestic applications also waned last year, at least in part because of the improving economic picture. Historically, business school applications are counter-cyclical: When the economy is in tatters, applications increase as would-be students seek safe havens; when the economy improves, applications decline.
At top schools, however, the trend seems to have run its course. Most of the top 10 reported a surge in applicants to their full-time MBA programs this year. Cornell University's Johnson Graduate School of Management, the University of Virginia's Darden School of Business, and the University of Chicago's Booth School of Business have all reported double-digit gains for the 2013-14 academic year.
Join the discussion on the Bloomberg Businessweek Business School Forum, visit us on Facebook, and follow @BWbschools on Twitter.
Before it's here, it's on the Bloomberg Terminal.
LEARN MORE