An Accelerator to Turn Auteurs Into Entrepreneurs
By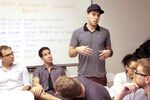 Five years ago, Zack Lieberman and Ryan Koo had a major Hollywood studio interested in their pitch for a murder mystery set on a subway train that would let viewers navigate among different perspectives to watch the story. At the time, there were barely any ads on YouTube, Hulu was brand new, and no one had heard of an iPad. "Ultimately there was no real business model for it," says Koo, and studios spooked by the financial crisis passed.
The pair was back pitching the idea in early September, not in a slick studio exec's office but in an empty Manhattan suite in midrenovation, with bare light bulbs and no furniture beyond two folding tables and a cooler of beer. After their 30-second spiel, Lieberman and Koo answered questions from a crowd of about three dozen—lots of beards and Warby Parkers—about their experience, business model, and how many Twitter followers they have.
It was the second day of Dogfish Accelerator, a new program designed to make filmmakers think like entrepreneurs, modeled on startup boot camps such as TechStars. Eight teams of moviemakers will spend the next three months working on projects that range from feature films to Web video portals. They'll get lots of hands-on business coaching, industry connections, $18,000 in seed money, and help raising follow-up investment. In exchange, they give Dogfish 8 percent of their project's revenue.
Indie film producer James Belfer came up with the idea for a film accelerator while getting his MBA at New York University's Stern School of Business. A year ago he spent the summer helping out at TechStars in Boulder, Colo. He realized the filmmakers he knew could benefit from a big dose of the business skills entrepreneurs learned from mentors there.
Like other media businesses, the motion picture industry was thrown into chaos by digital technology. Filmmakers don't have the luxury of just writing, shooting, and editing if they want to get their work seen. Belfer argues that they need to embrace the finance, marketing, distribution, and technology aspects of moviemaking as well. "To just say we're going to go to a festival and make a sale, that doesn't make back money," he says.
Koo and Lieberman, who met working at MTV, hope to start shooting this winter for 3rd Rail, their subway murder mystery. Their business is as much about the technology as the content, though, and since they hatched the idea five years ago, the number of screens connected to the Internet has exploded. They're considering delivering the episodes on mobile devices and video game systems such as Xbox Live or Playstation Network that would let viewers choose the perspectives they want to watch. "We think there's a big market for people who want to watch movies but also want some level of interaction that goes beyond the passive experience," Lieberman says.
Dogfish Accelerator's focus on business and technology, rather than content, is both liberating and a little scary to filmmakers. Allie Esslinger, co-founder of Section II Films, is trying to create an online destination for lesbian programming—"Netflix for lesbians," she says. Her team is still getting a grip on what it will take to build an enterprise larger than a tiny production company. "We're not at all looking to be just a one or two-person operation," she says. The possibility is exciting, "but we need help with it," she says.
Esslinger thinks the industry right now will reward people who can combine talent behind the camera with creative ways to reach audiences and generate revenue. "It's easier than ever to make a film," she says. "It's just harder than ever to make a living making film."