After Las Vegas's Housing Crash, Fraud, Ferraris, and Gun Fights
"The entire system was rife with fraud"
by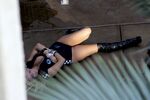 Jan. 20, 2009: The National Association of Home Builders predicts a 29 percent drop in real estate prices
Amid the housing boom and subsequent bust, no place in the country heaved up more extreme real estate behavior than Las Vegas. During the first six months of 2009, the city racked up the highest rate of foreclosure of any major metropolitan area in the U.S., according to RealtyTrac. Citywide, 1 in 13 properties had fallen into foreclosure, more than six times the national average. And by 2009 no place in Las Vegas had evolved into such a baroque and extravagant set piece of housing horrors as the Meridian Private Residences.
Through a set of binoculars mounted on a tripod by a window in his living room, Robert Vance, 60, watched it happen. When things got really weird, which was often, he took photos. "The homeowners association asked me if I saw something bizarre, to get a record of it," says Vance, a film technician who lived in a three-bedroom condo on the fourth floor. The year 2009 proved to be a vintage one.
Designed to look like a Mediterranean oasis, the Meridian is located on E. Flamingo Road, which passes through the heart of the Las Vegas Strip, past the Bellagio fountains and the Paris Casino's miniature Eiffel Tower. In 2005, American Invsco, a real estate company in Chicago, bought the 16-acre gated community through a subsidiary LLC and converted its 678 rental apartments into condominiums. At the time, new condominium projects were sprouting up across the city. Interest from abroad was huge, which meant that American Invsco could sell condos almost exclusively to people who had no intention of ever moving in.
In glossy brochures distributed at parties from Las Vegas to London, American Invsco guaranteed that for a period ranging from 12 to 36 months, anyone who joined their corporate "leaseback" program would (a) have their taxes covered, (b) get their homeowners association fees paid, and (c) receive a generous monthly rental income. It assured investors it would cover all three incentives, even if the buyer's unit was unoccupied. It was the quintessential sales pitch, reflecting the prevalent spirit of a madcap era: Investors could buy, hold, then flip a property without ever setting foot inside.
Only 14 were ultimately sold to owner-occupiers, according to one subsequent estimate by a former American Invsco manager. The other 98 percent of the units were bought by investors who lived in far-off places such as New York, California, Canada, the U.K., Ireland, Italy, and Japan. Time would prove that selling the bulk of a condo development to absentee owners on the eve of a real estate collapse is not a great recipe for community stability. (American Invsco did not respond to several interview requests.)

Like the legions of people who arrive in Las Vegas hoping to get rich on blackjack or roulette only to find that the system is stacked against them, the boom-time real estate investors, once stripped of their cash and illusions, hastily got out of town. At the Meridian, according to one estimate by a member of the homeowners association, roughly 490 of the units eventually went into foreclosure or short sales.1
From his living room, with its magnificent view of the casino-studded skyline, as well as of the Meridian's communal areas, Vance watched the condo complex empty out. And the more deserted the property got, the sketchier it felt for those who remained.
One day, Vance called the police to report that someone appeared to be stealing furniture out of empty units; the police told him that unless it was his condo being robbed, there wasn't much they could do. Another night, at 2:30 a.m., Vance got a call from a neighbor who heard noise coming from the trash receptacle area. The next morning, Vance looked around. He found that in the dead of night, somebody had been filling the Meridian's industrial-strength trash compactor with boxes of condominium documents.
With each passing foreclosure, who owned what at the Meridian grew more opaque. One Thursday in April 2009, a group of day laborers showed up and erected a chain-link fence blocking the primary driveway to the complex. Some company, which none of the residents had ever heard of, claimed it owned the land and was owed back rent. Eventually, the dumbfounded condo owners paid the bill, and the fence came down.

In the meantime, somebody appeared to be breaking into foreclosed units, replacing the locks, and renting them out on the sly. "I was constantly hearing noises and checking on them," Vance says. "If I heard a drill, it got to the point where I automatically knew somebody was drilling a lock out."
For months the parking garages at the Meridian had been largely empty, but then Vance started noticing Rolls-Royces, Bentleys, Lamborghinis, and Ferraris parked there. One night, a young woman who was renting down the hall from him got locked out. She asked to borrow his phone and then proceeded to have a long conversation with a man, whom he presumed to be her pimp. Vance watched a constant parade of women in short dresses and guys in cars in the parking lots outside.
On the morning of Feb. 21, 2013, a Maserati was chased down the Strip by a Range Rover, whose driver was shooting a gun out the window. The Maserati crashed into a taxicab, which burst into flames. The driver of the Maserati, the cabbie, and his passenger were all killed in the carnage. Two days later, police recovered the Range Rover. It was parked at the Meridian. Later that same month, they arrested the driver, Ammar Harris, a resident of the Meridian with an owl tattoo on his neck and a prior-arrest record in Las Vegas that included "pandering with force," a charge frequently associated with prostitution. According to a profile in the Las Vegas Review-Journal, Harris, now 27, bragged on social networks "about his life as a pimp" and about the piles of money and stable of sports cars he'd accumulated by running prostitution rings in Miami and Las Vegas. In April he was indicted on charges including three counts of first-degree murder. At the same time, he was indicted for allegedly raping an 18-year-old stripper at the Meridian. Harris has pleaded not guilty in both cases and is awaiting trial. Prosecutors are seeking the death penalty.
 
 
Back in 2006, before the arrival of the women in skimpy outfits and squealing tires, American Invsco had been developing luxury condominium buildings in various U.S. cities, including Orlando and New York, in addition to Las Vegas. American Invsco was pitching its offerings in newspapers and online. "Purchase midrise condos under corp leasing program, positive cash flow," read one ad in the Review-Journal. "American Invsco is the best investment I ever made," a woman says in a promotional video from the era.
Amy and Frank Taddeo liked what they saw. The Taddeos, who were relocating to Nevada from Staten Island, N.Y., had $300,000 to put into an investment property. A sales agent, Amy says, suggested they buy 10 condos at the Meridian, putting $30,000 down on each unit and borrowing the rest; but the Taddeos, who were largely dependent on Social Security for income, thought that sounded risky. Instead, they purchased a two-bedroom apartment for $654,000 and signed a leaseback agreement guaranteeing them $4,000 in monthly rental income for the next three years, according to court documents. No one bothered to point out that rents on comparable apartments were closer to $1,200.
The payments lasted for roughly a year and a half. In June 2008, the Taddeos and other investors abruptly stopped receiving their guaranteed monthly checks. At the time, the managers of the Meridian were trying to stave off the collapsing market by converting the property into a condo-hotel. As part of the deal, they'd persuaded the owners of about 450 units to cough up $20,000 to $32,000 per condo to purchase new standardized furniture.
For a while the makeshift hotel operation showed some financial promise, according to a letter to owners from a former American Invsco manager. Part of the condo clubhouse was transformed into a front desk and hotel lobby. Cleaning ladies pushed carts up and down the halls. Work crews retrofitted the front doors with electronic key systems. Thanks to ads on travel sites such as Orbitz, Travelocity, and Expedia, the Meridian was soon teeming with the typical stew of Las Vegas tourists: Midwestern businessmen playing hooky from conventions, European vacationers nursing hangovers by the pool, young men on bachelor party binges.
All of which was fine with the absentee investors. But the new lifestyle didn't sit well with the handful of condo owners living there. Eventually someone tipped off reporters at the Review-Journal, who revealed that the Meridian was operating as a hotel even though it lacked the proper permits and zoning designation. County officials ordered the Meridian to halt the short-term rentals. In October 2008, the Meridian paid Clark County $598,000 in penalties and unpaid room taxes. That summer, the Taddeos scrambled to find a tenant to cover their $2,700-a-month mortgage payments. In February 2009, Amy Taddeo says, their investment condo at the Meridian slipped into delinquency, then foreclosure. In 2011 their unit was resold out of foreclosure for $111,000. The Taddeos' original $300,000 investment had been wiped out.
John Kelleher, the former head of the mortgage fraud strike force at the Nevada Attorney General's Office, says he began looking into the Meridian in 2011 after hearing from a number of angry buyers, but he lacked the manpower to properly investigate. "The entire system was rife with fraud," Kelleher says. "We had to prioritize." He left the Attorney General's Office in 2012 and now works at a martial arts academy.
In August 2008, the Taddeos joined more than a dozen other investors in a civil suit against American Invsco and its subsidiaries, alleging that they were the victims of fraud. Lawyers for the defendants responded that the claims were without merit. Five years later the litigation is ongoing.
Before it's here, it's on the Bloomberg Terminal.
LEARN MORE