A Hail Mary to Mumbai: NFL Goes Bollywood
by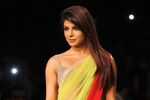 Move over, Faith Hill and Carrie Underwood: Here comes Priyanka Chopra.
The Bollywood star can probably walk through the Dallas Cowboys' stadium without being recognized. After all, Love Story 2050 and Barfi, two of her films, didn't play well in Texas. But Chopra is huge in India, and she'll be headlining tonight's NFL Network broadcast, belting out her single In My City amid all the CGI glory that is the league's pregame music video—fireworks and hokey graphics and football players stomping through digital sets like animals in a game of Big Buck Hunter.
Chopra will appear before 12 more Thursday night games this year. "The most important thing is exposure," she told Reuters (TRI). "[It's an] intro to who I am and what I do."
Chopra is much more than a Bollywood star. She won a Miss World pageant, and her tracks feature performances by will.i.am and Pitbull. She's also one of the voices on Disney's recent film, Planes.
Make no mistake, though, picking Chopra was a savvy play to bolster the NFL's international fan base. Ford Motor, Coca-Cola, and KFC are focused on winning consumers in India and Asia; why should the country's most successful sports league be any different?
The NFL wants its revenue to top $25 billion by 2027. That scale of business—more than double its current level—is likely going to require some touchdowns abroad. Commissioner Roger Goodell has even explored hosting a Super Bowl in London. Anyone around the globe can stream games live through the NFL Network online.
Robert Tuchman, president of Goviva Enterprises, a New York-based sports and entertainment marketing company, said the NFL is always working to expand its brand overseas. "This is a really smart way to do that while not doing something that's completely asinine or obvious," he says. "I think it's genius."
Chopra will also turn heads of foreigners in the U.S. There are now roughly 12 million (PDF) U.S. residents who were born in Asia, according to the U.S. Census. Football fans who don't recognize Chopra are probably still going to watch the game. And Chopra fans who don't know Tom Brady from Tom Landry might just tune in.
A lot of would-be fans in the heart of Bollywood, however, may miss Chopra's gridiron debut. When she starts singing on the NFL Network, it will be 5:30 a.m. in Mumbai.
Before it's here, it's on the Bloomberg Terminal.
LEARN MORE